Los Angeles Limo Tours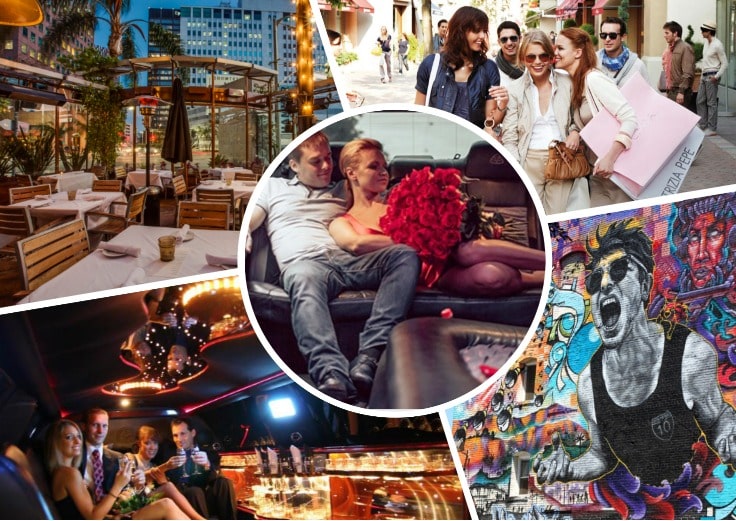 When it is about Los Angeles Limo Tours, we are not going to disappoint. Clients trust us in their millions, and you can as well put your faith in our extraordinary limo service Los Angeles. On top of knowing how to give an experience worth reliving, we know all the top spots for a memorable tour in LA County and the neighboring cities. We are the right choice, and you will keep coming to us whenever you want a lifetime tour.
We have been doing it for some time now, and we understand our customers. Come with your expectations, and you will leave a happy client. Above all, our rates are very competitive. If anyone else is giving you a sweet deal, you can be sure we will make it sweeter. We are the Los Angeles limo that everyone trusts. Join the ranks of happy limo service customers, and your LA tours have never been better.
How about a party bus Los Angeles experience? Check out our Party Bus Ideas in LA.
Our Exclusive Package of Los Angles Limo Tours
Los Angeles is the place for you if you are looking to have fun and escape from your busy life. In fact, it is the place you should head to for the finest things in life. On top of that list is the Los Angeles limo that will take you to wherever you want any hour of the day and night. It does not matter your age, your tour tastes, whether you are alone, family or a bigger group; there is always something for everyone. Even for the picky holidaymakers, you will get something to do, and our limos are ready to make sure you will remember your time here.
To give you a taste of what you should expect, here is our exhaustive package of LA limo tours;
Sightseeing Limo Tours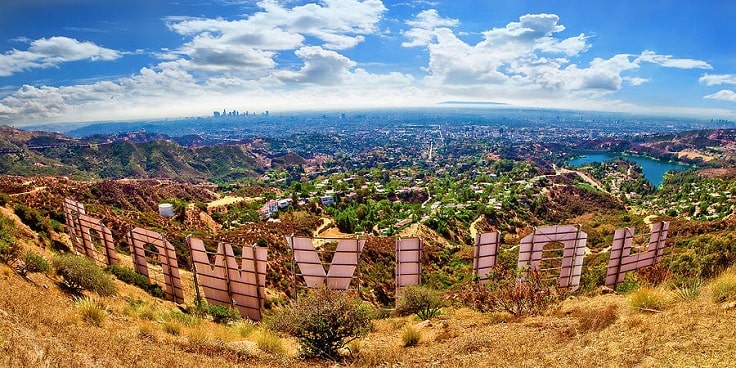 Are you the wild kind that would never have enough of nature? You came to the right place. We will treat you on a sightseeing tour that will go on the record as the best in your life. We take groups of 10 people and more. Come with your friends and our Los Angeles tour limos will take care of your needs. We will take you to beautiful southern California. Here there is everything from beach sports, winery tours, hiking, and having a great time with nature.
Our booking process is easy. We will be right there at your pick up point not a minute later. If you are having a hard time choosing where to go on a sightseeing tour, we have a team that can help you make a fantastic choice. Having been in the field for a long time, we know where you can have blasting fun with your family or friends. Is it to the San Antonio vineries or Malibu vines? We have more surprise destinations waiting just for you.
When you feel like getting away and rejuvenating your energy, we are your first call. We will put together a package specific to your needs. Just give us a call, and everything else will be for us to handle.
Movie Home Tours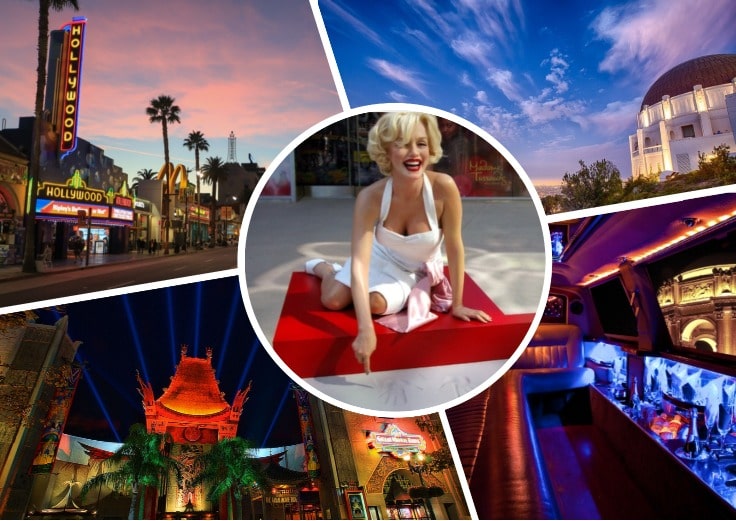 For the lovers of movies, we will take you to them. To whichever blockbuster is coming through this weekend, we make sure you show up as a celebrity. Interestingly, we also have a package to take you to the front lines of movie shooting. You will be in perfect timing to see behind the scenes of your favorite movies and someone to give you a tour through them.
Our studio tours are like a dream come true for you. Top on the list is Warner Bros studio. Our limo will take you to Burbank where you get a thunderous welcome and a tour through the studios. Be ready to drop a jaw because it is a new level of excitement. Do you have two hours for an exciting studio tour? Sony Pictures Studio will give you that. The live studio tour will give you an inside experience into what goes down in movie production. If it is your lucky day, you may bump into your favorite star.
Moreover, we also have the Universal Studios tour in our list of destinations.
Here, comedian Jimmy Fallon will crack your ribs during the one-hour tour. You get a rare chance to see behind the scenes before they hit the big screens. Lastly, we have the Paramount Studio tour. The two hours of touring will give you a real feeling of being on location for a movie shoot. The studio houses some of the top locations for famous movies lovers across the globe. You can go over the two hours if you choose to go on with both the Dark and VIP tours.
Excitingly, we also do celebrity home tours. Do you want to see Halle Berry's or Tom Cruise's homes? You are in for a blasting experience with the most elegant Los Angeles Limo.
It is also quite a thing to hang out in the same circles with top celebrities. That is why we take you to Chateau Marmont and Rodeo Drive. This place is the heart of Hollywood, and you never know whom you can run into.
Private Tours
If you love your own space and are choosy about who you hang out with, our private tours will give you some experience to talk about. Choose your destination and whoever you are going with; we will be behind the wheels to take you to wherever and whenever you want to go. Most importantly, we customize our limos to fit your preferences. We want you to feel in the right place. Bring onboard what you need to keep things lively for the entire duration.
Art Tours LA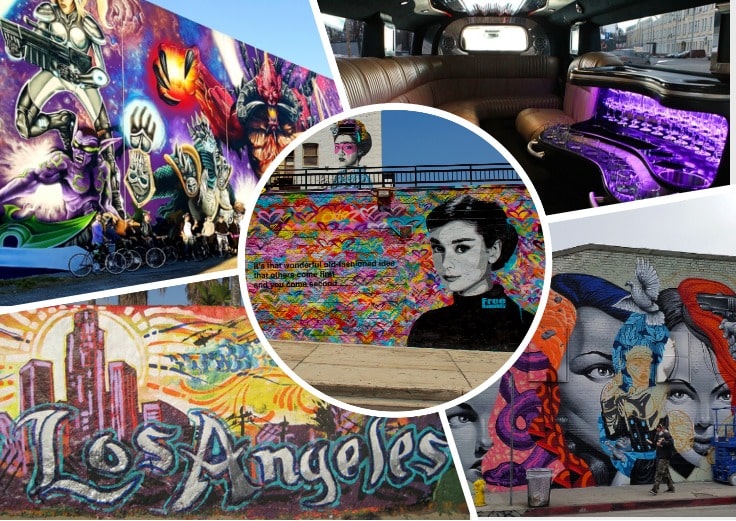 We told you LA has everything for everyone. We were not kidding about it. Here is something for art lovers. Top on our charts is LA Downtown. It is where art starts from the streets and creep into the big art showrooms. The Art District is a must-visit, and you will not regret your choice. It is full of crazy creative murals and big names in the art scene. That is not all; there is much art all over LA that you will be spoiled for a choice. Besides taking you to the top art houses, we also make sure you get guided tour through the pieces. Do not be surprised if you meet one of the biggest names in art during one of the tours.
Hollywood Night Club Tour
LA's nightlife is crazy to the actual meaning of the term. The clubs are always on fire any day of the week, and the crowds are super fun to hang out with. Thankfully, our Los Angeles Limo Tours will take you to the top clubs in style. We know you can walk, but why do it when we can take you there in a few minutes and at pocket-friendly prices? Our limos can accommodate a group of 50 to 100 patrons.
All you have to do is choose your date and clubs. If you have a problem picking the finest clubs in LA, we will lend you a hand. Our team is privy to the hot LA clubs for the partying.
Luxury Restaurant Tours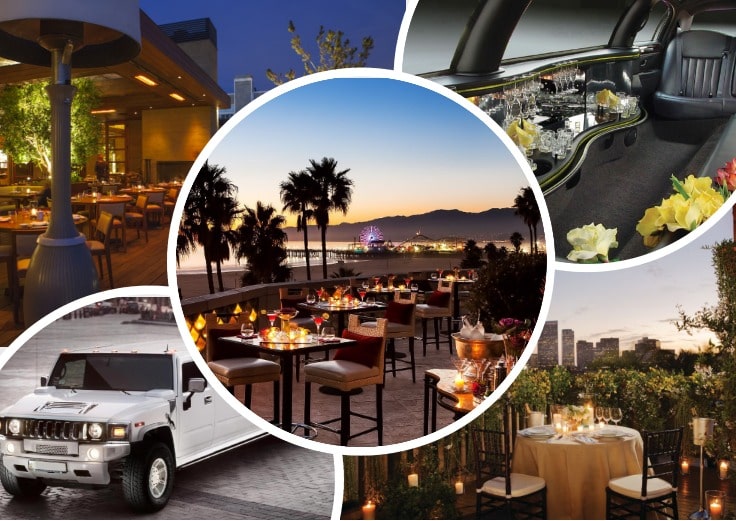 When it is about dining like a whale, it matters most the kind of restaurants you choose. You should not find it difficult picking the right choice because our restaurant limo tours know the top spots for a hearty meal. Is it going to be sushi or seafood for you? We know what each restaurant serves and the kind of crowds hanging out there. Is it Melisse Restaurant, Patina, Totoraku, or Urasawa? Choose your spot, and that is where we go.
Los Angeles Beach Tour
LA is known for many things, but it is her beaches that place her in the top holiday destinations' list around the globe. With pristine sandy beaches stretching for tens of miles, you have more than you will ever dream of. Malibu is the dream spot for many, and if it is yours too, our beach limo tour will be at your service. Other top picks are Santa Monica, Venice, and Oxnard.
Los Angeles Shopping Limo Tour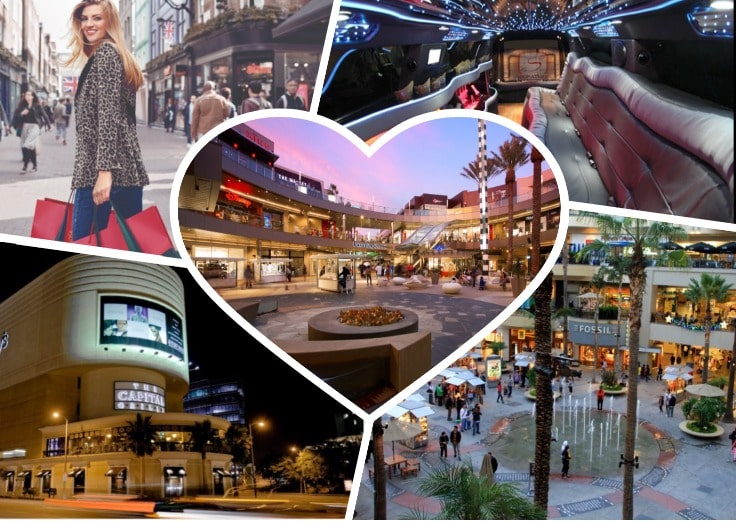 You cannot live in LA and not be a shopaholic. It is the shop haven that visitors and residents alike can never have enough. And while you do it, we would like to help you beat traffic and travel like you own an island. We are always on time, and you will never be late for that last day sale you have been looking forward to. Additionally, we help you choose the top shopping destination in town. Please take your seat and relax; Our LA shopping limo has everything under control.
Fashion District LA limo tours
LA is a heavyweight fashion destination. We could not leave out fashion lovers our limo tours. In particular, Fashion District LA is the place to be when they open shops to the general public. Every last weekend of each month, it is a great time to be in LA. The Los Angeles Sample Sale for high-end fashion brands is always going down at this time. Do not worry about how you get there; we make sure you arrive and leave in fashion. Mark your calendar for the big sale and book us to be your driver for the day. It can never get more exciting than this.