Los Angeles Prom Limo Service for You!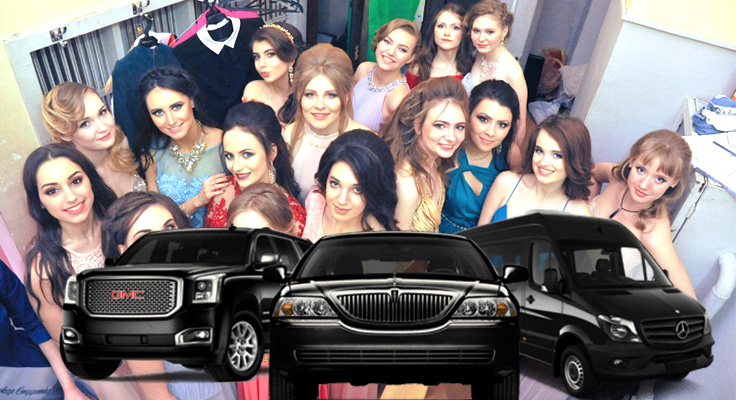 Is your prom night fast approaching? You probably have your tux or elegant dress ready. Your friends are in the right mood and cannot wait for the day. But aren't you forgetting one significant part of your prom? How do you plan on moving around, a cab? No way, this is far much important day that deserves something special. And guess what? You came to the right place because a prom limo service is a specialty we have perfected over the years. With average 1k in prom expenses per family, ordering limo is exactly what you would need.
Prom limo is a sure way to mark your night in pomp and style. And there is no better place to get your limo services Los Angeles other than from us. We are the leading Los Angeles Prom limo service providers, and we promise to make your night a memorable one. Picture this; you will be arriving at your prom venue aboard a Rolls Royce Phantom or Ghost.
Those are not the only choices of luxury limos we offer; our fleet is exploding with high-end new models to spoil you for a pick.
Do you need a party bus in Los Angeles? Check out our Party Bus Ideas in LA.
Our Los Angeles Limo Company service multiple cities.
Why a Prom Limo Rental Los Angeles.
Your prom night is a big day, and it is in such days that you get to live like a king or a queen. A prom limousine is not in any way a show of extravagance. If anything, you are just making your day more fun. Whether you will have a date by your side or a bunch of close friends, our prom limo rental will take care of the details. We will make sure that your prom night remains on the lips of the city for the entire week.
Putting aside the pomp and prestige that comes with riding in a limo, you get a chance to enjoy every bit of your night. After dressing up for the occasion, you do not want your perfectly pressed suits to pick up creases from squeezed seating. Our limos will offer you adequate seating area with interior decors and anything else you need to get the party started on a high note. You can play your favorite movie or music videos on real-life size monitors. All cars from our fleet have a free Wi-Fi connection to stream all that is going down to your parents and friends. When you are thirsty, you got to yourself a mini bar serving non-alcoholic drinks and some snacks.
As it is often with homecoming parties and prom nights, people are bound to get intoxicated. It is not a crime as long as all partakers have attained the legal drinking age. It is never wise to drive when your judgment is impaired. Why not leave all the work to our seasoned and highly trained drivers? They will make sure you get to your venue safely and drive you back home in one piece.
Do they deserve to live through this fun for one day in a lifetime?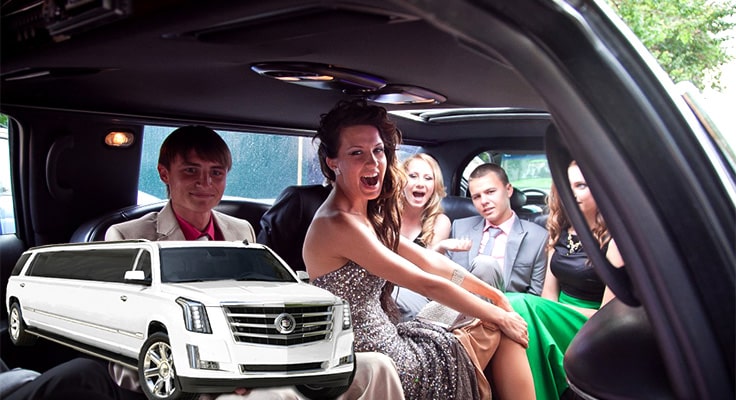 How much will a prom limo cost me?
There is never a definite way of telling how much you will spend until you get specific details of what you plan on doing. Your choice of a limo, number of individuals in your party, where you want to go, and the distance of your ride are some of the factors that will determine how much you end up paying for the trip. However, we are on record for being the most affordable limo service providers in LA and the neighboring cities. We will find a package that will not cripple your finances.
Crucial Things to remember when planning for group Prom Limo Transportation
After designing your prom trip and going over each small detail more than once, you can hope that your forthcoming prom night is going to be the best in LA. But before you can be solidly sure, there are a few things we would like you to consider.
First, know the exact number you will have in your group. Here is your chance to help you choose the right model of a limo from our fleet. Typically, most limousines can take up to 20 individuals at once. If your group is more than that, then you will need a party bus. We need this information early in advance so that we can make the necessary preparations.
We want our customers to know that each of our limos is at the hands of a professional and experienced driver. He/she will pick and drop you at agreed points. Our drivers can pick up each group member individually. It is your day and whatever you desire from us is all you get.
Favorite Prom Venues in Los Angeles
Now that you have settled on us for your prom limousine transport, it is time you think about the venue.
Thankfully, Los Angeles does not come short of spots where your prom party can go down. If you did not decide yet, we do not mind refreshing your mind with a few suggestions:
Azucar, Downtown: are you looking forward to an intimate night with your date without any noise from a big crowd? The Conga Room is the place for you. The food, entertainment, the scenic view of the city will make your prom night more special.
The Nomad Hotel: If you are bringing a group of friends to your night, you need a spot with space and will earn you respect from your peers. The Nomad Hotel is such a place. Boasting a blend of LA swagger and Mediterranean décor, the hotel will live up to your expectations.
Evolve Project: how does a hardware-theme sound for your prom party venue? If it is something you would love to experiment with for your prom party, Evolve Project at Silver Lake fits the bill perfectly. Designed with a concept of privacy and with a score of entertainment options, this is one place your memorable night can go down.
Here you can find out about more favorite Los Angeles prom venues 
We cannot put down all the favorite prom venues in LA but we are sure our suggestions have inspired you, and you will make an informed choice. Wherever you choose to go, we will be your wheels and eyes on the road.
Prom Limo Rental Tips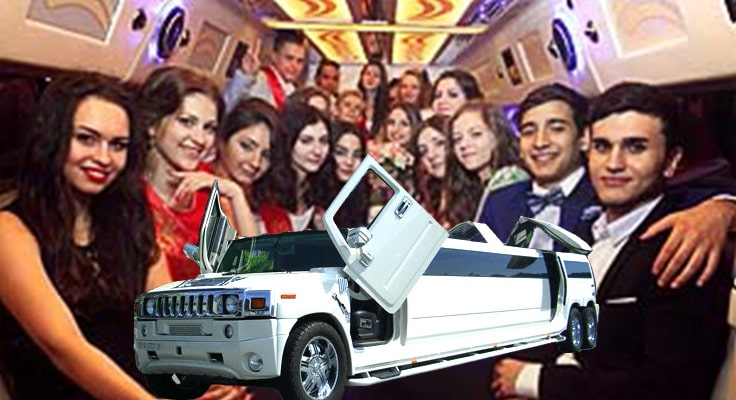 We recommend booking rental limousine early in advance. Although we can work with short deadlines, we always recommend that you make your booking soon. We get adequate time to prepare and give you an exceptional service.
Before you choose your limo, know the size of your group
Ask for a discount. There is no shame in bargaining for a better deal
Make early arrangements for the venue to avoid last-minute disappointments
Why choose us for your prom limo transport?
We have positioned ourselves as the leaders when it comes to Limo Service Los Angeles. It is not something that we brag about; we have earned it through our unrivaled services and have your best interests at heart. While others promise you the best prom limo services and deliver nothing close to your expectations, we do whatever it takes from our side to provide value for your money and make you our loyal customer. Here is what distinguishes our rental limo services from the rest of the pack:
Experience:
your prom night is not the first we are doing. We have been doing this for years. All the way we have learned and improved our services. We can guarantee you the crème de la crème of prom limo services in the entire LA.
Customizable packages:
We have everything for everyone. Do you need a limousine all to you and your girlfriend or do you want your bunch of friends with you? Whatever you desire is precisely what we offer.
An extensive fleet of luxury limos:
From top brands to the latest models, our fleet has them all. Whatever is your preference, we have it ready for your ride.
Our drivers are hardcore professionals:
We handpick our drivers after scrutinizing their driving records. None of them has any criminal records. Your safety can never be in better hands.
The city trusts in our services:
Ask around LA about the best limo services, and you will find fantastic reviews and satisfied customers. For every ride we give our customers, we provide them with a reason to recommend us to family and friends and come back themselves.
Where others have failed, we excel.
There is only one way of understanding that is working with our company worth your trust and money. Make a date with us, and we will smash your expectations.
Call and make your reservations today
If you are all about making your prom night a lasting memory into your old age, we suggest that you call us now or go online and fill our booking form. With our best luxury limos, entertainment and ultimate safety; we are going to redefine the meaning of fun. We will pick you from your home or school and drive you through the city to your prom venue. When the party ends, we will drive you back home or to your hotel. And for all of these, you do not have to break your bank account.
Do you have more events coming up? We cater to multiple kinds of events
Private Limo and Night Out Limo
Bachelor Limo and Bachelorette Party Limo
If you have a large party with you, check out our Party Bus Los Angeles
If you need a ride to or from airports, we provide airport limo service
And, of course, if you are looking for the Corporate Limousine Service, we are there for you