Bachelor Party Limo Service
Are you quitting the bachelor life? Alternatively, is one of your buddies saying goodbye to the single club? Well, congratulations are in order. What we would like to tell you is that your single last night out begins and will end with us. We are the unrivaled Limo service Los Angeles and would want to be part of your night before you boot the bachelor club. We suggest a bachelor limo as the grandeur way to bring your friends together and say the last goodbye.
However, we prefer it when you do it in style. When we suggest bachelor limo party service, we know the next question you will ask. Are there any stripper poles in our limos? Sorry, no.  Although, we know exactly where you can get anything you want. Our Chauffeurs know LA like the back of their hands. They will take you to sassy venues where you can knock yourself up before the grand wedding day. If your party is too large, you are welcome to check out party bus Los Angeles.
So, are you looking for fun and mad partying for a bachelor party? We are your best bet, and we are going to make it a night that you will narrate to your grandchildren.
Los Angles Bachelor Party Venues
While you are justified to take your bachelor party outside LA, you may want to think twice. The city is a hotbed of untamed bachelor party venues. Have a look before you leap to anywhere else;
Paper Tiger Bar: Well, a bachelor party in a bar it is. This Paper Tiger Bar is one spot where you are going to love everything. Space, the crowd and the music; everything fits in well for a smashing mad bachelor bash.
Hollywood's Club Brawl: again, it seems your appetite for clubbing is not about to wane. Here is another excellent joint where party animals can show their true colors. The bridegroom-to-be will thank you for your exquisite taste.
The Raven Spa: We know that spas sound so much girlish and this is the last idea you would want for your bachelor party. Just hear us out. Here you will get your muscles relaxed and body rejuvenated. Once you are fresh, you can head to whatever club you choose.
Echo Park: even boys would want some pics to remind them of this great day. We can take you to Echo Park to enjoy nature at its best. Some photos, a great view of the city and head to your venue for the grand finale all night.
Vegas Baby! If you still insist on taking matters away from LA, Las Vegas is the place to be. You can go clubbing, grab a picnic at Grand Canyon, or rent a suite and live like kings for one night.
If you invited friends from different cities, they can use our airport limo service upon arrival.
Charming Bachelor Party Ideas

You probably have bought the wedding rings and chosen the wedding venue. Very well, you are thinking ahead. However, before you put a ring on that finger, it is time to be selfish and think about you. We mean you and your close friends. If you are running dry on ideas why not let us help. One quick advice: do not suffer under pressure to do things the way others want you to. If having naked ladies for the party is not something you want, it should not be there. It is your day, and you better roll just like you. Are you ready to take pics from the mountain, lay bare-chest on a sandy beach or go for a Disneyland ride? The choice is all yours. Here are some fascinating ideas;
Go on a beach camping: LA has beautiful thousand miles of beaches. Get your friends and let us drop you off to your destinations.
Opt for a bar crawl: LA is awash with top range bars. If you want to mark your last day as a bachelor inebriated, you got your wish. Dance on the tables, be naughty and waste the night away in the company of jaded drinkers.
How does a strip club sound? There is a weird connection between strippers and husbands-to-be. Is the bridegroom comfortable with a night surrounded by nude and ladies in bikinis? Make a date with one of the top clubs in town.
Take a Limo to Las Vegas: there is one thing about Las Vegas; it is the global capital of entertainment. It explains why bachelor parties easily pick Las Vegas their venue. Does this sound like a plan for you? We will take you there.
What is in our Bachelor Limo Package?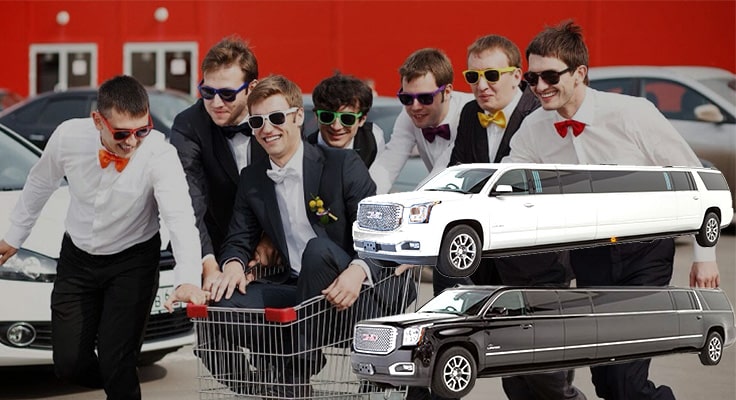 We are going to give you a bachelor party of the year. You had better get your expectations up because we are going to smash them. With our customizable packages, we have everything for all preferences. To let you peek into what is coming your way, here is a tip of what we are cooking for you and buddies;
Befitting red carpet experience:
a bachelor party signals significant transformation because one of you will shortly be committing to a different life. That is why we make sure this party is not like any other. We will give you a red carpet experience. For hours you will be riding with us, you will feel like kings and princes.
Professional and Business-attired chauffeurs:
here we mean business, and that is why our drivers are going to look the place. They are in official uniform and ready to make your time aboard a memorable one. They know all the spots in the city that befits a bachelor party. All you have is to say your destination. Get swamped as much as you would because today will not be your driving day. Each one of you will get home safe and sound.
Well, we are not going to stand there and be spectators to your planning. We will suggest to you venues, decoration ideas, attire and anything else you may need. We have been doing this for so many years that we know what works for every customer. Just ask for help, and our dedicated team will be more than happy to lend a hand.
Multiple-hour party limo rental:
How long do you plan on riding on our limos? That is up to you. Is it going to be 4 hours, 8 or 10? The decision is all yours. Certainly, we are going to be there not a second later. We will take you to your destinations and back to your home or hotel. We are with you around-the-clock and until you are ready to head home.
if after the bachelor party you are still going to use our services for your wedding, we are going to slash the rates for you. You see, we know how to take care of your pocket. You are just walking into marriage, and we would like you to do so with some balance in your bank account.
From us, you get free water and a soft drink. However, this does not mean you should not bring some hard stuff onboard. Bring your bottles of champagne or whatever works for the group. After all, you got a designated driver behind the wheel.
some music, a movie or whatever gets you guys into the mood of partying. Our ultra-modern limos come with the best infotainment systems. It feels like a haven once you are inside.
Do you want, also to take care of your woman? We also offer Bachelorette Party Limo.
What makes us the perfect choice for your Bachelor Party Limo?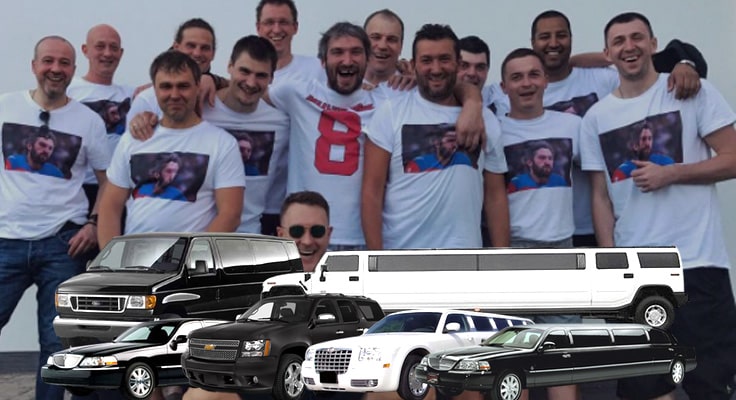 We know that this is not a monopoly. We have the competition to beat. However, we are happy to tell you that we are the leading limo service providers in LA and the surrounding cities. That is not in dispute. So when you roll with us, you are in the best hands. However, what gives us the edge over our competitors?
Industry hard-earned experience: we have been part of every successful limo event in the city and beyond. We use the experience to our advantage and what you get from us are crème de la crème limo services.
Household brand: check out our customer reviews, and you will pick up your phone and make a booking right away.
Well maintained fleet: our limos and party buses are in great shape. No breakdowns and disappointments. We do not give excuses for anything. We do what we do best.
Competitive prices: our rates are among the best in the industry. Over and above, you will get the value of every dime you are spending.
Professional Chauffeurs: our drivers are friendly, highly trained and never late for a pickup or drop off.
Be Boys and Let us take care of your Bachelor Party
Here is one last chance for you or your friend to be a boy. Nobody wants the last chance to be a disappointment. That is why your bachelor party would never be better without us. Our limo services are what you need. We promise to make your night one of the greatest in your lifetime. Don't let the fun go past you. Call today and book us for your bachelor party. We will move mountains to give you a befitting party.
Is your bachelor party over and you need more services? We also offer