Limo Rental Los Angeles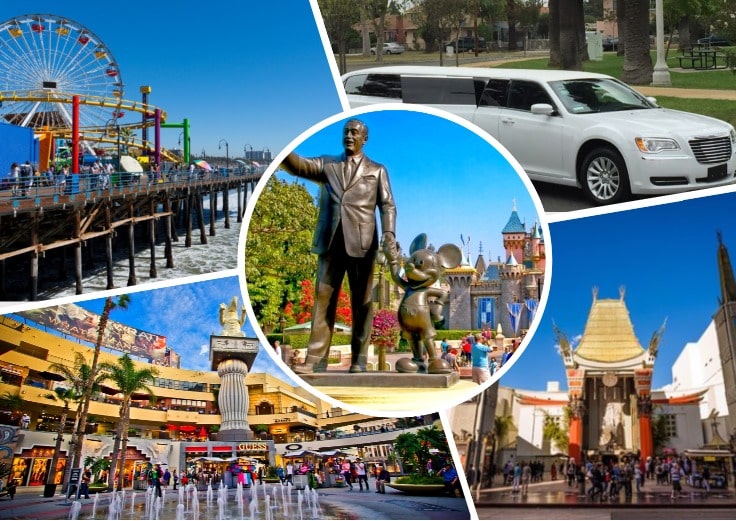 LA is the place to be for anyone looking for party venues, top clubs, and things to enjoy, see and do. Therefore, it is no surprise that Limo rental Los Angeles services (part of our Los Angeles limo) are one of the best around the world. Residents and visitors alike look forward to going around the city in style for whatever event they have. Moreover, Limo service Los Angeles will leave you desiring for nothing. If it is an excuse to live like a star albeit for a few hours, your upcoming birthday is a perfect one.
It could be any other momentous occasion; we got your travel needs.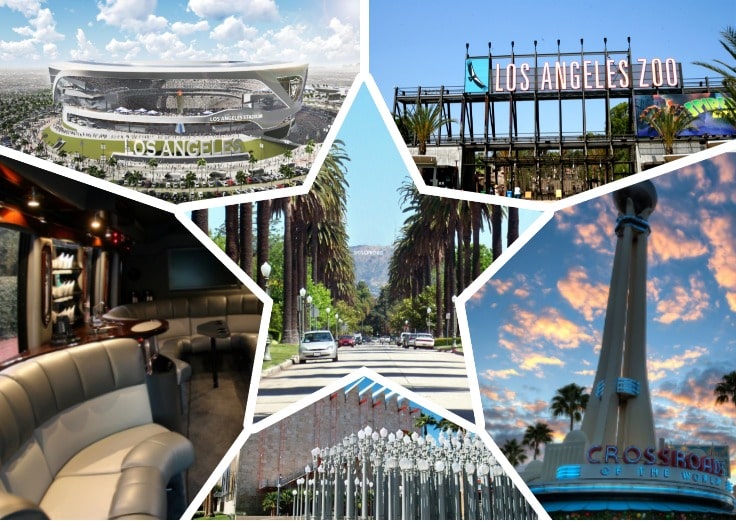 Thankfully to our dedication to cover every part of LA County with the best luxury travel option, our limo LA services stretch from one corner to the next. Honestly, there is no section of the city suburbs does not know our fleet. It is a matter of saying your destination, and we are there for you all the time.
For your heads up, here are the areas you can easily spot one of our limos on a routine trip. We are closer to you than you may think.
Beverly Hills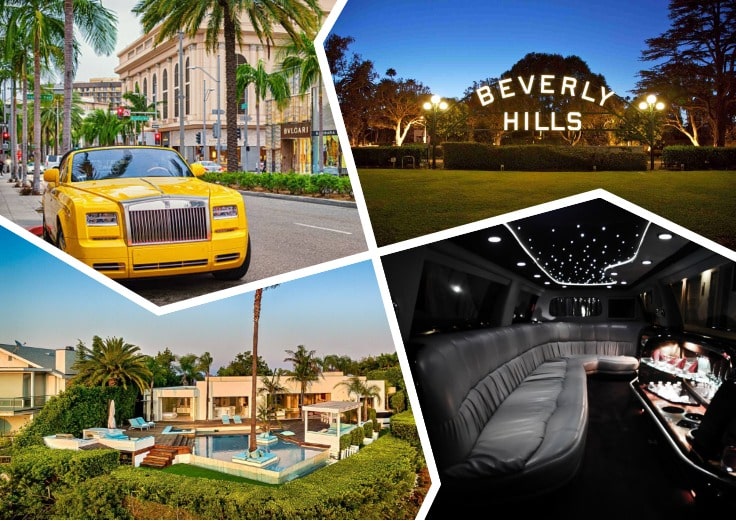 When you come to Beverly Hills, you are coming home to the A-list stars. People around here know how to celebrate each day of their life. You do not want to come here and seem out of place. We have a package for you that will make you fit in like a resident even though you are just visiting. Besides, we have an offer for those who live here. Whether you want to go shopping, attend a meeting, or a business conference; we are going to bring you down from the hills just like royalty.
There is everything you would wish to do in Beverly Hills.
With great venues for parties, picturesque views of LA, and places to kick in and let the evening waste away slowly; you never want more. Where would you want our Beverly Hills limo to take you? For all events, within and without, we are going to make it a lifetime experience. We know exactly where you can spend some quality time. Let us take you to Spadena House, Greystone Mansion, or Beverly Garden Park. For hiking enthusiasts, Runyon Canyon Park is also one of our top customers' destinations.
Hollywood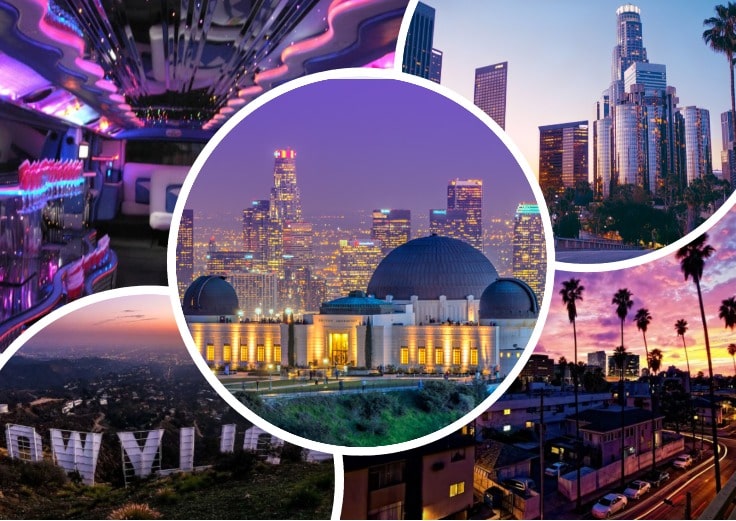 We would not leave out the home cinematic entertainment out of our Hollywood limo services. This part of LA lives up to the hype it attracts. For those heading to a big show at the Hollywood Bowl, we have a dream package for you. We will drop you off and leave everyone guessing who you might be.
When the show is over, we will give you a grand exit.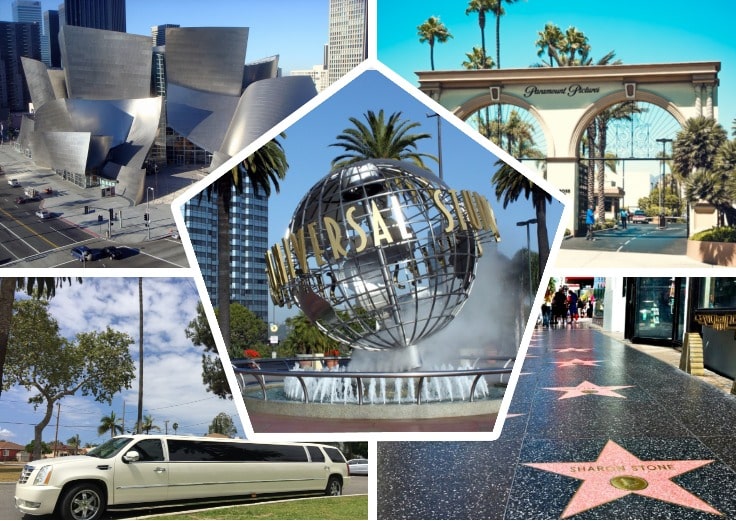 Additionally, you would want to go for Walk of Fame tour before the sun sets. Our drivers know the time for a perfect visit here. We also take you to Universal Studios Hollywood where you can catch a panoramic view of the city. Hollywood Boulevard is also in our list of must-see. In summary, you have every reason to want to tour Hollywood, and we give you the means to do it like a celebrity.
Santa Monica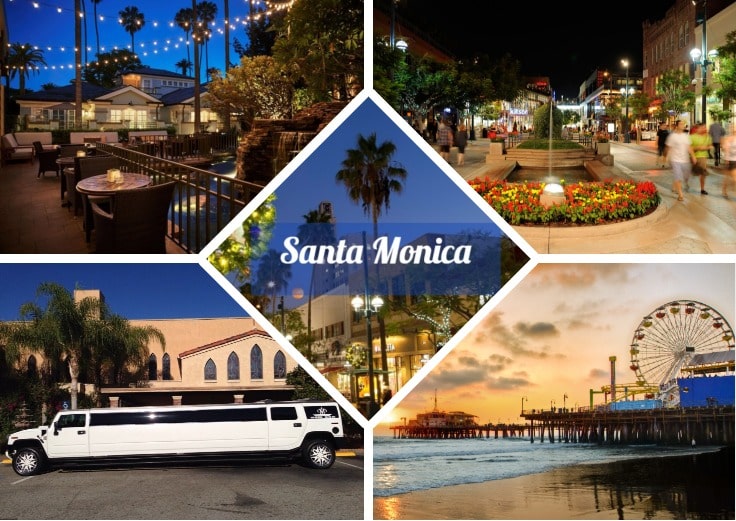 One of the things that stand out for Santa Monica is the beach experience. You can keep coming here time after another and never have enough of this beautiful town. It is a place where you would be happy to have a party or mark your big date here. Of course, you can bring your girlfriend here and propose. For the beauty of the city, she will say a big yes before you finish the question.
More important is the fact that you will not be driving yourself or relying on taxis or public transport.
We are happy to be at your service. Our drivers understand the city and strive to meet all your needs. Whether you are going to Santa Monica Pier, visiting Third Street Promenade, or sampling the city's nightlife; it is your day to live your life without any worries of how you get back to your home or hotel. Our Santa Monica limo rentals will be an excellent choice.
North Hollywood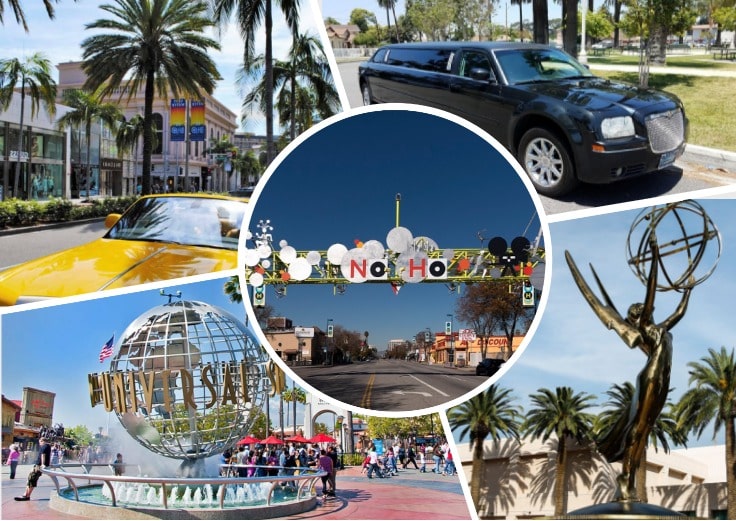 Home to top recording studios, North Hollywood is a beauty you should add to your bucket list. Even those who live here, you need some time to go around in a limo appreciating what your city offers. Allow us to refresh your memory about some of the spots you can visit aboard our Limo LA. Mulholland Scenic Overlook attracts visitors from the city and far beyond the US. Add that to Rodeo Drive and the Sunset Trip. We are far from over.
Pacific Coast Highway and Venice Beach Boardwalk are part of your rich-visit list.
To wherever you want to go or do, you can count on our limos to take you in a colorful style. Therefore, you have no reason to sweat in a cab or be held up in a traffic jam. We are here offering you a quick and reliable ride within North Hollywood and the entire Los Angeles.
Bel Air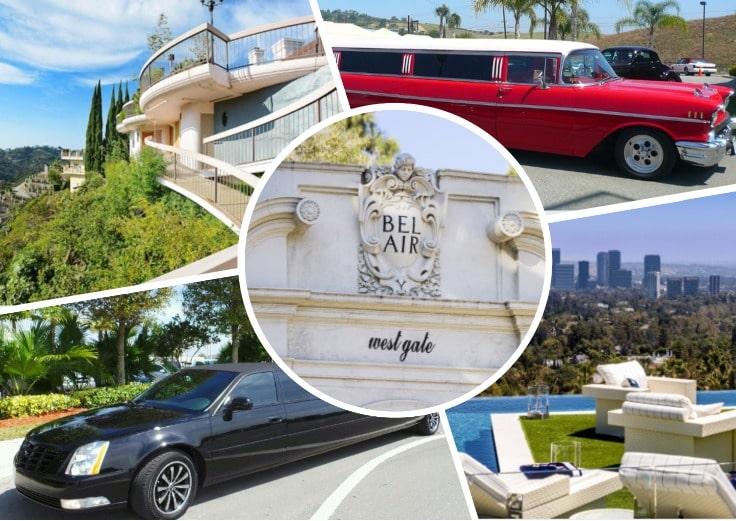 First of all, Bel Air is one of the most luxurious neighborhoods in Los Angeles. It is a beautiful place and the right choice for having crazy fun. Secondly, you do not want to tour such a city in your typical style driving yourself or hopping into and out of public transport. With our Bel Air limo service coming all the way here, you have no reason to fret about how you get from one spot to another.
Let us start with Bel Air Hotel and other amazing places.
It is where fitness-conscious people come for a walk or bike rides. In one of our limos, we will drive you here and wish you a productive day. There is every reason to come here with your family to enjoy the beautiful places. We make sure it is not a driving day for anyone of you.
Westwood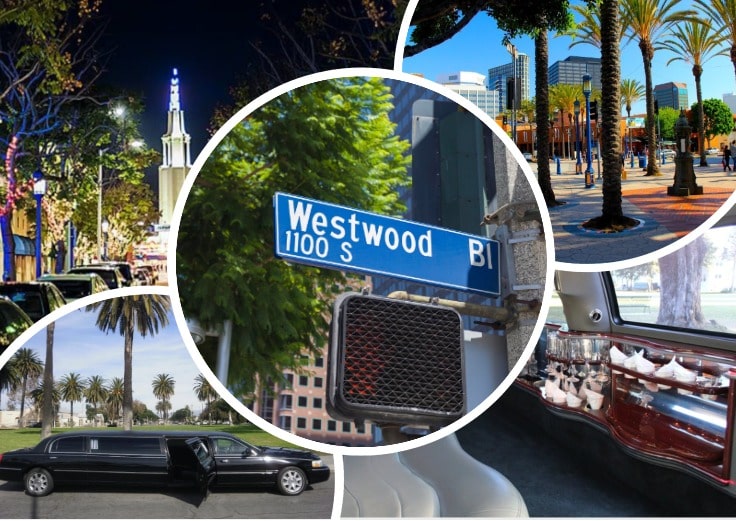 For your information, Westwood is home to some of the finest spas on this part of the world. For instance, Mezzaluna Day Spa is a spot you can try for your massage or other beauty needs. You do not just show up as a regular folk; take a ride in one of our limos and demand services of a superstar. Our team will be there for you.
Additionally, Uptown Art Westwood should easily be in your visiting list.
It is fun and worth spending your time. To your satisfaction, we give you a royalty-like drive with ur Westwood limo service toward there. There are plenty of museums in the likes of Fowler and Hammer Museums. Geffen Playhouse is also a great addition. Wherever you want to go to Westwood, we are your easy and comfortable ticket.
Glendale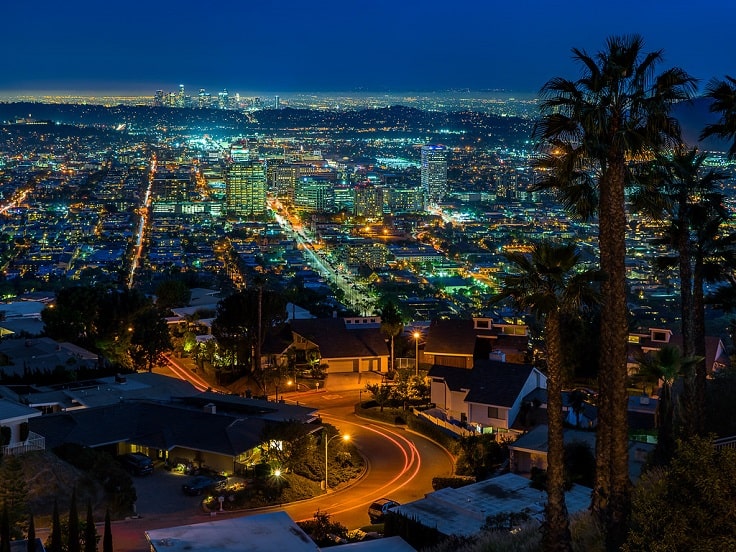 When you have a special event you are marking, Glendale is the city for you. You are never short for venues. To top up that, our Glendale limos come all the way here. Now that makes it two good reasons why your wedding should go down in Glendale. Who said it is always about the big occasions? You can go out and shop at the famous Brand Mall. We will drop you off at the parking area. There is the Museum of Neon Art, Brand Boulevard with a string of classy restaurants, Verdugo Park for a perfect relaxing environment, and Alex Theater. The to-do and to see-list is more than you can imagine and with our world-class limos, you will need nothing.
Pasadena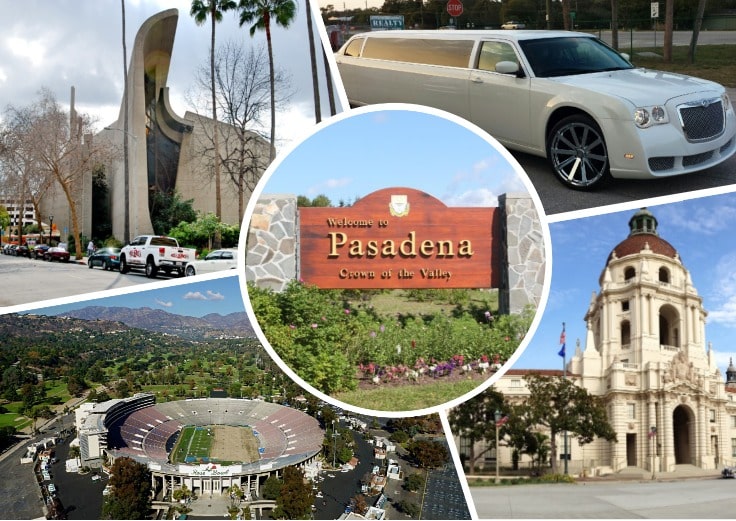 How does a tour of Pasadena sound? It is beautiful and worth sacrificing a few dollars for it. We are going to give you the tour and leave you asking for more. You can as well let us bring your entire family to the famous Kidspace Museum. You will all take your seats at the back, recline and let us drive you to your destination.
Whatever you are doing in Pasadena, no matter how insignificant it seems; our Pasadena limo service will drive you in prestige.
San Fernando Valley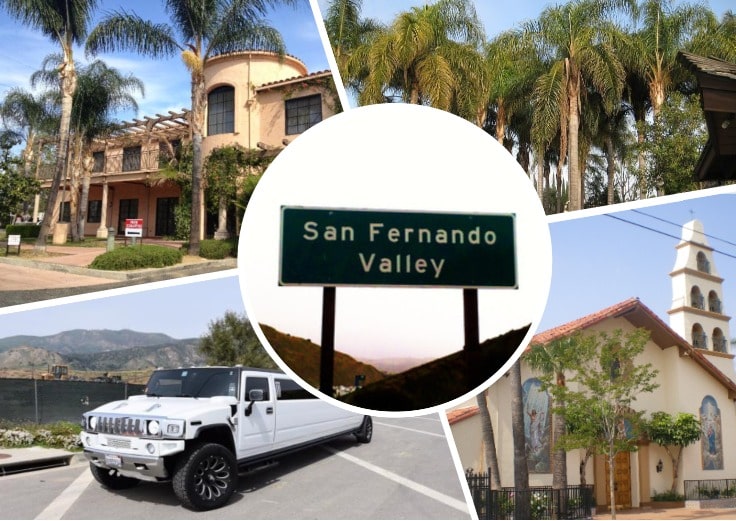 In case you forgot, San Fernando Valley is part of LA County. Your guess is right. San Fernando Valley limo Ca is part of luxury transport. Whether it is a casual drive to the valley, a dinner date, a club-hopping night, a bachelorette, or anything that comes to mind; we will make it worth your time and dimes. Nobody knows the valley area as we do. It is a day that you will recall with us behind the wheels.
We are home to luxury transport in LA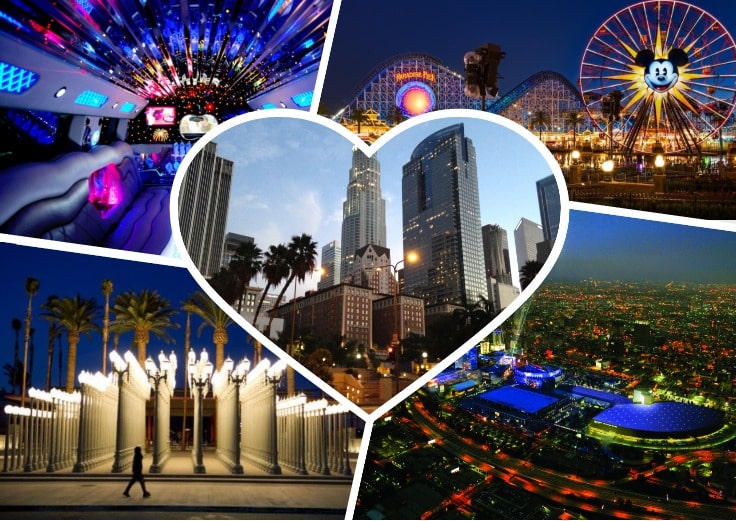 Our limo rental Los Angeles services come second to none. We are at the helm of luxury transport within LA and its neighboring cities. We take you where you want to go in style, and you never have any complaint. Fortunately, we make sure our services are affordable to everyone. No one beats the prices you are getting from us. We are the leaders of the industry, and we give you value for your money.
If you have a large group of people who won't fit in regular or stretch cars, we can offer party bus Los Angeles service. It would take you around LA or to other cities in California or Nevada.
If you are flying in or out of LA, our airport limo service will be there for you.
Lastly, do not forget to give us a call. It is all we need to make your dream luxury travel an experience you will never forget. Talk to us now, and we will never let you down.  
Check other cities