Top Limo in Los Angeles County
Los Angeles County is expansive, with everything you could ever wish. With such beautiful sceneries, cities to wine and dine, delicacies to samples, venues for mega-events, and luxury in the fastest lane of life; it one place you should add in your bucket list. If you are a resident in the county, you should have endless fun every day of the week. More importantly, Los Angeles limo is ready to take you from the east to the west, north to the south of the iconic LA County.
Featuring in the global edition of luxury magazines as one of the best limo services in LA, we are going to take care of your transport needs.
Whether you live in the city or you are visiting, there is something for everyone. Is your prom weekend fast approaching? Alternatively, is it your wedding, a trip to the wine country, night out hopping from one club to another, or bachelor's party? For any occasion, we promise to give you the very best of our services.
On top of everything else, our fleet is the most natural thing that sells our services. We have state of the art vehicles.
Limos for two, stretch limos for 6 to 8 individuals, SUVs for a discreet tour of LA, or a sedan for the extra prestige; there is every kind of top-end road machine.
Moreover, our drivers are the top cream in terms of professionalism and experience. They know LA County, every city, each great venue, the best places to kick in over a short holiday, and where to eat and party.
We serve every city of Los Angeles County
When we serve you some good limo services, we do not want any accusation for being bias. It is for this reason we have our network of limo services spread across every city in the county. As a matter of fact, we do not leave out even the smallest town. Ours is a mission of spreading the most expeditious limo service Los Angeles, and every corner of LA County can attest to our ballooning success and deep penetration right from the cities, suburbs, as well as the countryside. Our awarding-winning limos serve all these cities;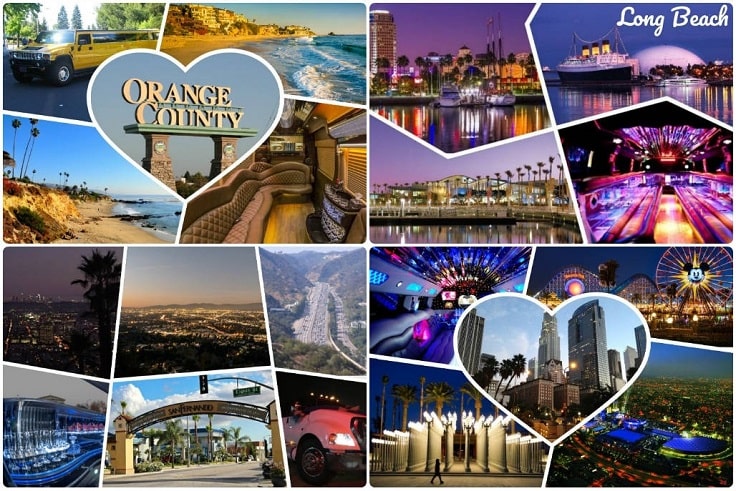 Los Angeles
The city of Angels is not your average town. Far from it, this is a global center for entertainment, holiday destination, and business hub. For your information, this is home to Hollywood. Yes, this is where those blasting blockbuster movies are cooked and served on your favorite TV channels and streaming services. One of the things that stand out here is the limo rental Los Angeles field. Here you get the crème de la crème of luxury transport limos. On top of the charts, we are the best LA limo that will take you to every occasion and venue. It is only a call, and we are at your pick up spot.
San Fernando Valley
Idyllic, ambient, and strategically located, San Fernando is one place you cannot lack something to do. When you decide to tour the city, San Fernando Valley limo promises to give you a lifetime ride. For a shopping spree, a night out with buddies, or a party on the road; we make sure you get the value of your every dime. Share your travel plans with us, and leave it all to us. We will leave you with a dropping jaw and wearing a smile of satisfaction.
Orange County
Where in Orange County do you want to go? It does not matter that you know the place or not; we know every part of this area. Our drivers are like the blueprint of the county, and with our limo service Orange County, you will arrive safe and on time. We are your tickets to the best venues for wedding, clubs to party, restaurants to dine, and parks. All you have to say is when and to what. The rest is in our court of responsibilities.
Long Beach
Sitting seventh in the list of most populous cities in Southern California, Long Beach has endless fun and things to do. Its proximity to the sea brings visitors from across the US and the world. As you take on the beauty of this city, remember limo service Long Beach is your top choice for transport. With comfort and safety, we will take you anywhere and anytime. For that occasion you have been planning for months, we will make sure it is worth the wait.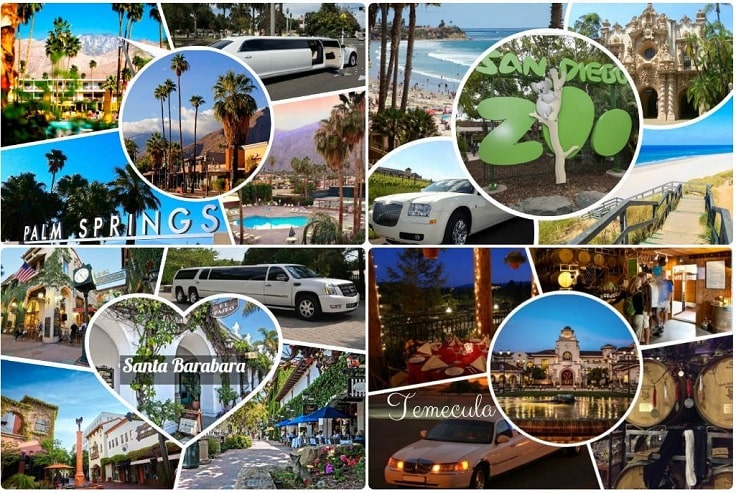 San Diego
First of all, San Diego is warm. Secondly, the city is home to some of the best parks and beaches in the entire USA. What is the best way to tour and be part of the fun that goes around here? Of course, Limo service San Diego is the first thing to your mind. After serving this city with the finest limos for years, we are going to make it a heavenly experience for you. Our affordable packages and vehicle for every preference will make sure you never forget about us.
Santa Barbara
This city has a heavy presence of Spanish colonial heritage. The red-tile roofs are a constant reminder. A museum, Ynez Mountains, high-end boutiques, and restaurants; there is much going around every season of the year. Additionally, you have limo service Santa Barbara to drop and pick you up like a celebrity. It is going to be like a holiday for you every time you travel with us.
Temecula
Temecula is well known for its wine tours. There is a string of wineries ready to serve you a glass of the finest wine flavors. We give you a Temecula limo that will take you deep into the wine valley. Bring your family or friends because there is something for everyone. Moreover, we will book the wineries for your tour as well as arrange for your meals.
Palm Springs
Limo service Palm Springs welcomes you to the hot springs, world-class hotels, spas, and golf courses. This is a wonderful place to be. There is everything you need to celebrate your wedding, party, and any other occasion you may be marking. Eventually, we make certain it is going to be a day you will not forget.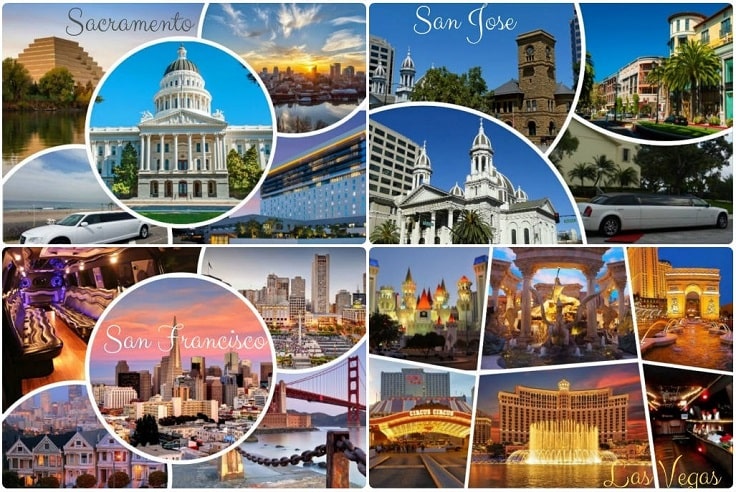 Las Vegas
Vegas, also going as the City of Sin, is a dream holiday spot. People show up from all walks of life to be part of the parties, casinos, and entertainment. Every season is a great time to be here and limo service Las Vegas is waiting to drive you forth and back through the city. To the casinos, to shopping in the world-famous malls, to dining and wining in five-star hotels, to hiking through the great canyon; your every travel need is covered.
San Francisco
Taking pride in Victorian houses, magnificent skyscraper, Golden Gate Bridge, among many other things; San Francisco is a place where the dust for fun never settles. Besides, limo service San Francisco is only a call away ready to help you move around with ease. From the tip of the peninsula to as far as LA, our limos and drivers will serve you to satisfaction. Do not struggle to beat the traffic or putting up with a stuffy taxi when we are your straightforward choice. The fun, luxury, and comfort will give you back the value of your money.
Sacramento
It is the capital seat of California and home to amazing attractions. Both American and Sacramento rivers form a confluence here. There are museums, the transcontinental railroad, and beautiful sidewalks. It is never boring to be in this city any time and season of the year. Above all, limo service Sacramento will be there to take you to any destination you decide. We are timely, affordable, and very reliable. You decide on your occasion and travel preferences and will fill up everything else.
San Jose
The city boasts of a wall of mountains and is home to the famous Silicon Valley. For the Bay Area, this is the technological heart and where great innovations are born. The structures here are architectural marvel; a downtown area is a place you must visit. On top of that, limo service San Jose is fired up for all your tours within the city and anywhere else to the state of California. No more inconveniences when you have to catch your flight, or traffic jams when heading to business meetings. We have a luxury solution for your transport needs.
Rest easy; we got your LA County luxury Transport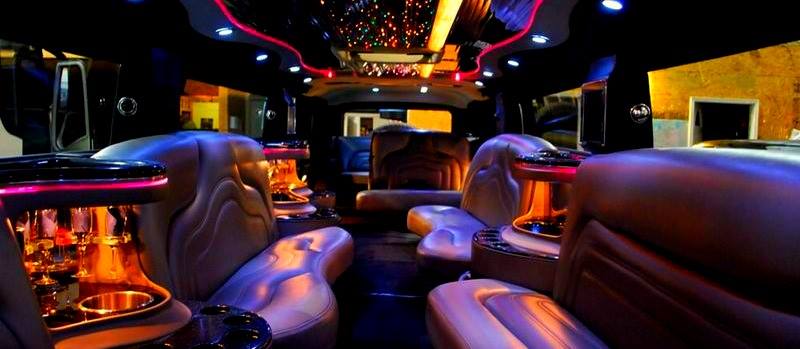 For any season, occasion, and any time; we are ready to give you world-class transport services. Search our name and see the impressive reviews we get from our customers. Truthfully, we are putting smiles on the lips of everyone who want to travel in style and comfort. Why put up with shoddy services when we are here for you? Dial our number and talk to our customer service. You will have all your needs addressed in one call.
While service multiple cities, we also provide
Airport limo service to following airports
If you have any corporate or business event, we can provide you with our special corporate car service to accommodate all your professional needs.
Or, if you have a large group of people, now we offer a great selection of party buses.
You can as well visit our website and fill up the booking form. It is as easy as 123.
Book your ride today and let Los Angeles Limo take you to your destination and back. We are happy people, and we would like you to be part of us.