Party Bus Santa Barbara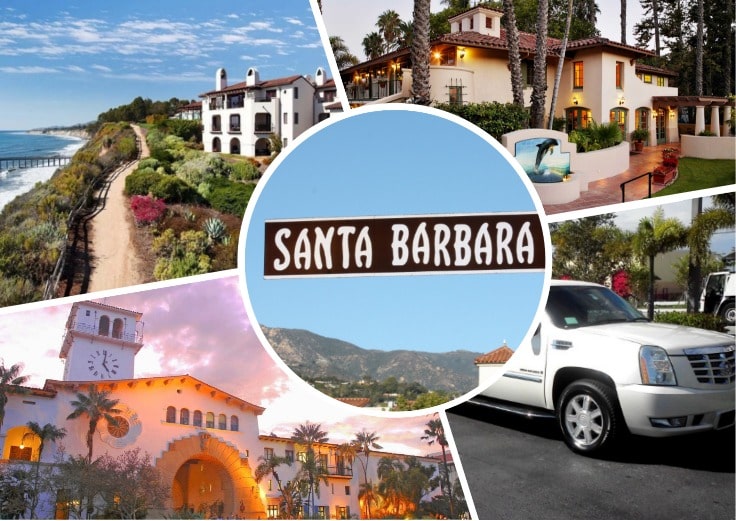 Party bus Santa Barbara ride is the perfect way to celebrate your big day. It could be a wedding, a prom, a wine tour, brewery trip or any event you would be marking. One thing, we promise you luxury beyond your imagination. Party Bus Los Angeles service is providing travel to Santa Barbara or from it to different cities.
We are the much sought-after Santa Barbara entertainment party service that you will never go wrong.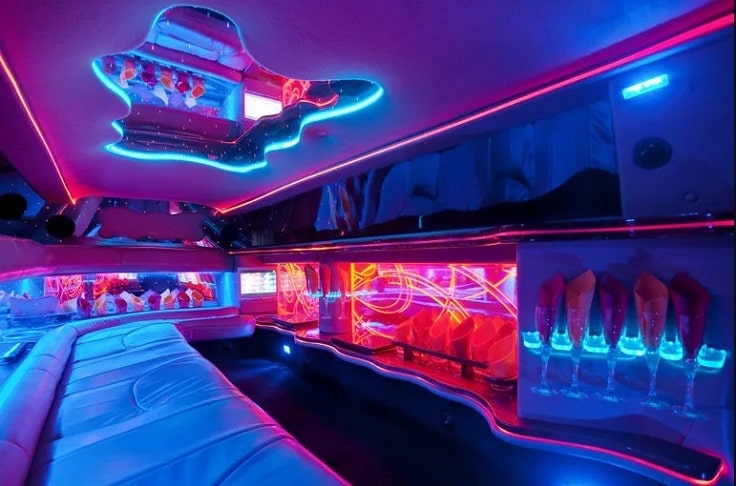 Above all, we understand your needs and work through thick and thin to deliver nothing short of your expectations. Besides, we have been doing this for many years. We know how to serve you to your fill and leave you demanding for more. When the trip is over, you will be swearing to never travel in any other way when celebration your important occasions.
Do you need a party bus in Los Angeles? Check out our Party Bus Ideas in LA
Forget sweating in a club full of senseless drunkards and brawls that disturb your peace.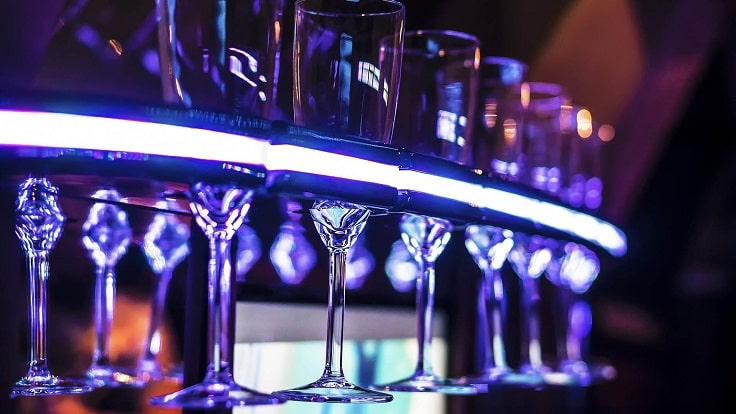 Party bus rental Santa Barbara is giving you a chance to do all the partying on the road in the company of friends. With our driver behind the wheels, it is going to be fun and entertainment all through the way. The party starts as soon as you get in and it never stops till everyone has enough. In fact, you have never tasted luxury until you ride with us for your big day.
Our Legendary Santa Barbara Limo Bus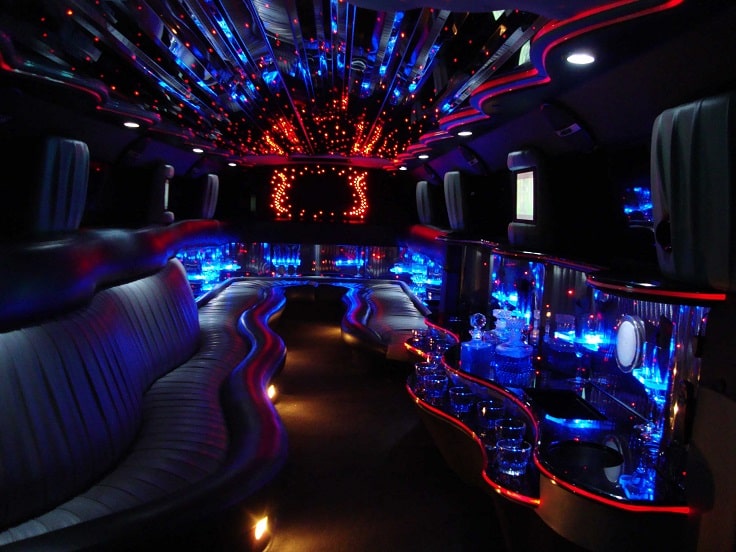 Above all, we are the constant presence of each successful party bus Santa Barbara Ca tour to wherever our customers are going. Similarly, we are in the lips of every person seeking to travel in style during an important event they are marking. We have worked tirelessly to make sure you get all you need under one roof. Our busses are decked out with the latest entertainment equipment. We also take care of your thirsty with a wet bar.
For the dancers in the house, you have a pole dance to show your skills when the wine gets the better of you.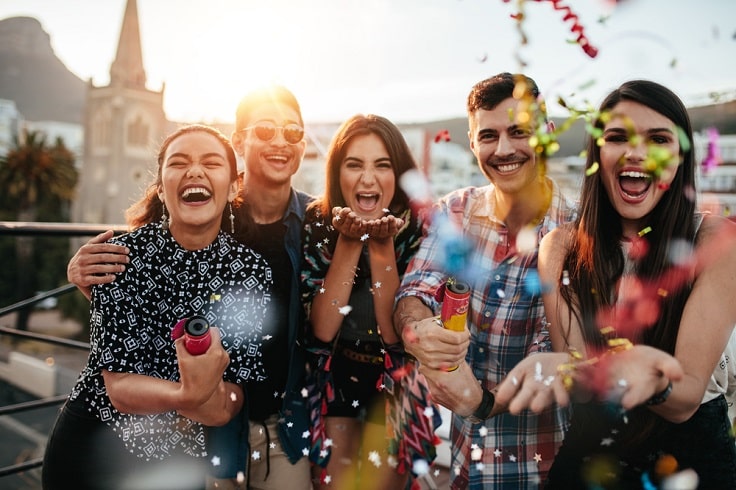 There is nothing you cannot do aboard our buses. Space is adequate to allow you the pleasure to sleep, dance, and do lots of other group activities. Amazingly, it is all happening while you are on wheels. You do not have to stop or go to a designated venue.
Our party buses are more than a five-star hotel with everything you need for a crazy fun party.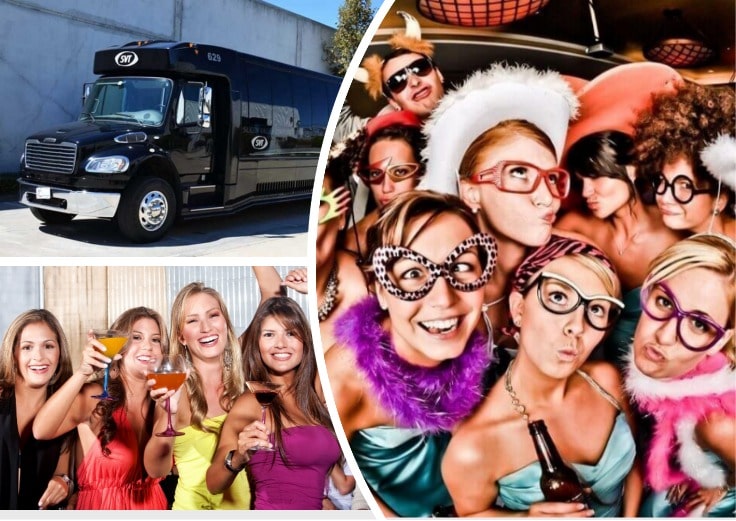 The most important thing, we are the most affordable Santa Barbara Limo bus you will ever come across. Show us someone else offering a better deal, and we will beat them hands down.
Our party bus Santa Barbara packages cuts across all financial tiers and ranges of preferences.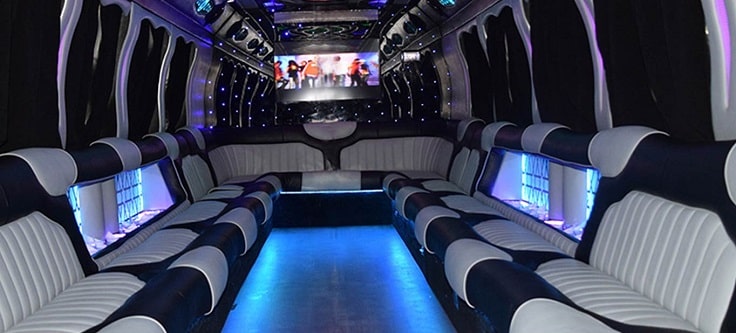 Even with a shoestring budget, we are going to get an irresistible package. Whether you are ten or fifty individuals, we have all the bus sizes for your choosing.
The Fleet everyone is talking about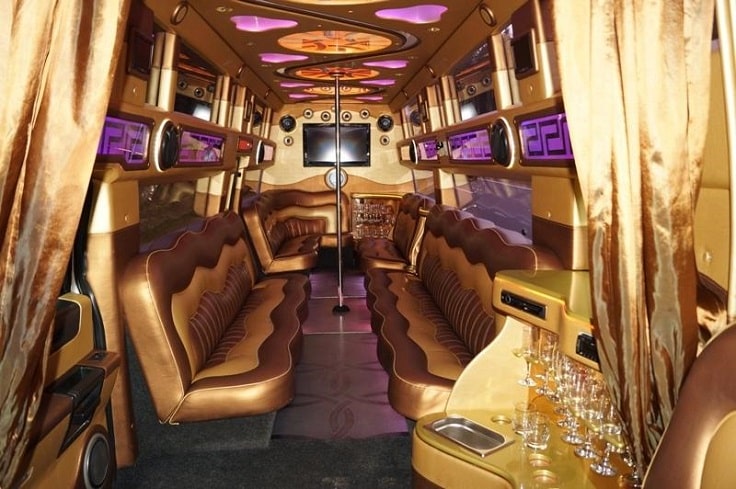 What is your dream Santa Barbara entertainment party bus? Do not even say it, because it is no longer a dream because we make it come true. Moreover, we not only make it a reality; we also deliver it with precision and beyond your expectations.
In our fleet, we have every type and model of bus right from small to big size ready to give you a lifetime riding experience.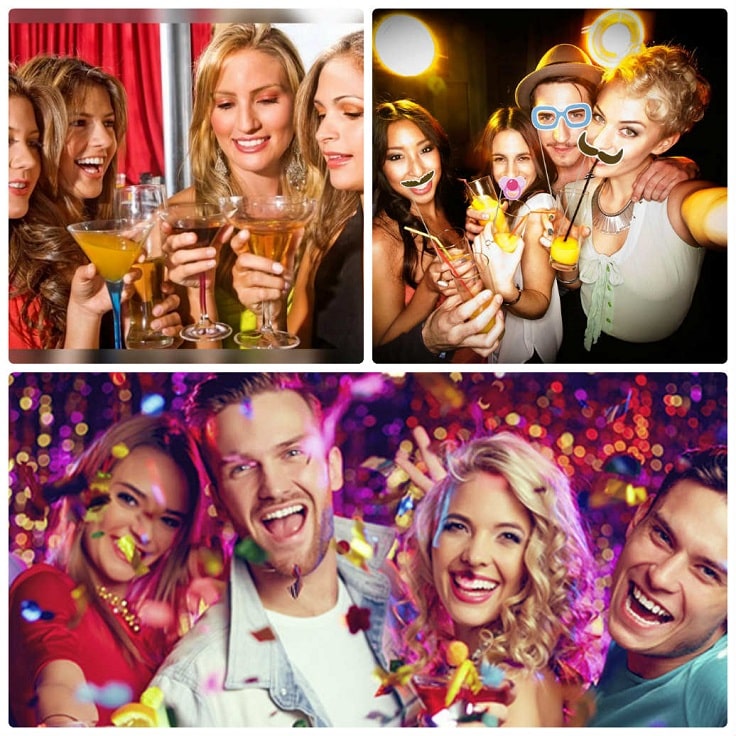 When you ride in one of our prestige party buses, you can quickly tell the difference between us and the rest. We keep our buses in pristine conditions. Besides that, the coaches are always in clean and ready-to-roll condition.
When you compare us to anyone else, you are doing us a great injustice.
We are the ultimate leaders of the party bus Santa Barbara Ca. Actually, we set the trends and no one beats us to the top spot.
We are the easiest choice for your prestige transport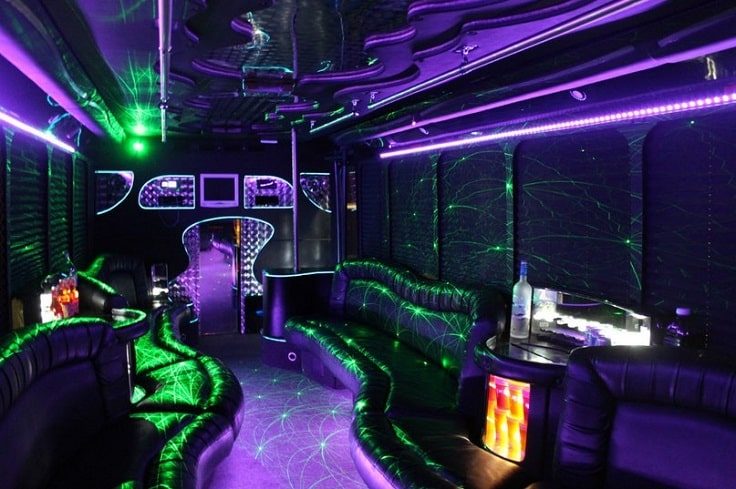 Above all, we understand that we are not a monopoly in the party bus rental Santa Barbara scene. We have competition fighting for the same business. We have crafted a path of success for our brand; thus we receive the lion's share of the market. Certainly, you might be wondering about what propels us to the top of the food chain. Here is what sets apart from the rest of the pack;
Top-notch services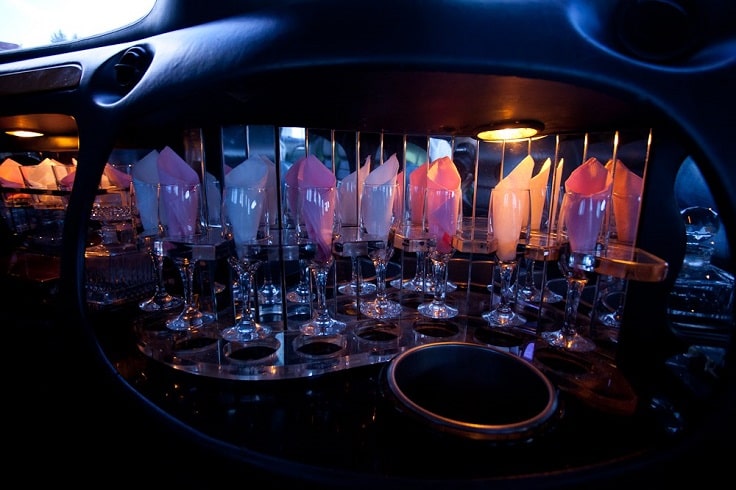 When you decide to travel in luxury during your wedding, bachelor party or wine tour; you are looking for an extraordinary experience. Our business model understands that, and we give you more than satisfaction. Our services are not in the common pool of what others are giving you. Honestly, we are at the helm of making your travel is beyond imagination.
We are reliable and safe
When we say we will be there at a particular time, we will show ten or so minutes earlier. We never fail our customers. Similarly, we do not take your safety for granted. We make sure that your journey starts and ends without a hitch. Our record of safety is yet to be tainted by a single incidence.
We uphold affordability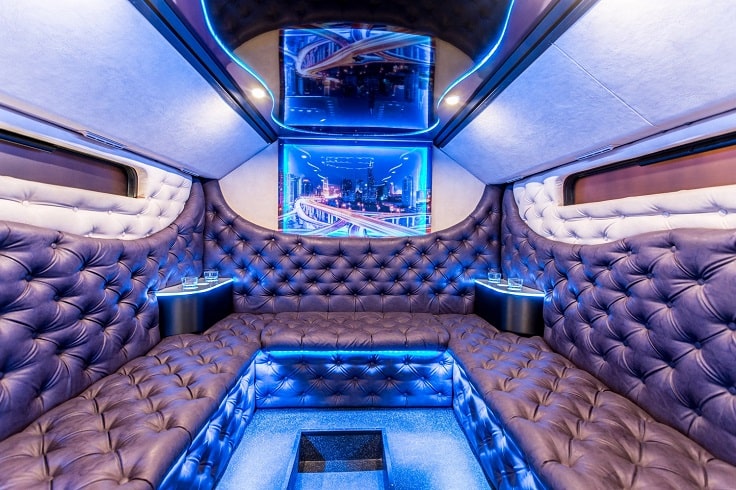 Probably, when we say luxury transport, many think it is something they cannot afford. You have never been more wrong. Our services are the true definition of affordability. Your budget is what dictates what we offer. Be sure that whatever your pocket depth, we have something for you.
We know the great routes and venues for utmost fun
Do not bother yourself with the routes or venues for your party. We know every spot within and without the city. We will hold your hand and head to some of the most scenic spots. Be ready for your heart to melt at the sight of what awaits you.
Dare to dream: you deserve big and better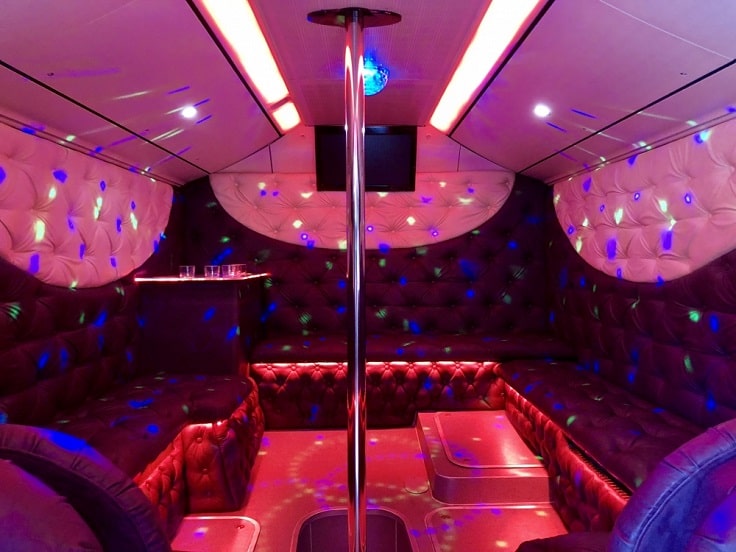 Truthfully, nobody seeks for luxury transport only to settle for poor services. What you need is the gold-rated experience from your party bus Santa Barbara ride. Above all, ours is the commitment to deliver the complete package of luxury and class.
We know that your needs are supreme to anything else.
Above all, we will go out of our way to provide the dream party bus experience that will live with you for eternity. We do not mince our words when it comes to service delivery. We walk the talk and leave no stone unturned in our endeavors to be the best.
Check out Our Services In Different Cities