What is a Quinceanera?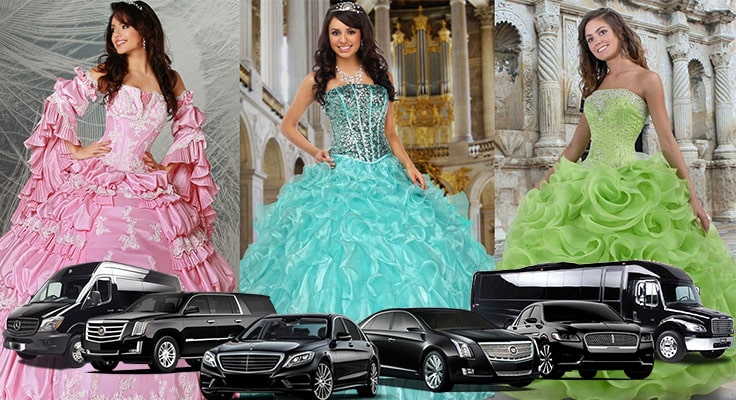 Are you the girl who is just turning 15? Great, it is your Quinceanera. A Spanish term and a culture upheld by Latin Americans, Quinceanera is a favorite way of celebrating birthdays. And while this is a Spanish tradition, the practice has become a global phenomenon. Turning 15 is a sweet age, and it is about time you treat yourself and your friends to a party that you will remember into your old age. Of course; the cake, drinks, music and the same old celebration should be part of the plans.
However, aren't you thirsty for more fun during your 15th birthday? You can have a blast and let your party be the talk of every corner of LA. How about turning to our Quinceanera Limo Service Los Angeles to liven up your plans? Yes, you can hire a limo party bus Los Angeles and celebrate your birthday on wheels.
If you need a luxurious party, all we do is make sure it goes down in style. At the heart of Los Angeles, we are the top choice for Quinceanera limo Service. We will make sure you live to be nostalgic of your sweet 15 because you will receive an excellent limo service.
Do you need a party bus in Los Angeles? Check out our Party Bus Ideas in LA.
Why Quinceanera Limo for your Birthday?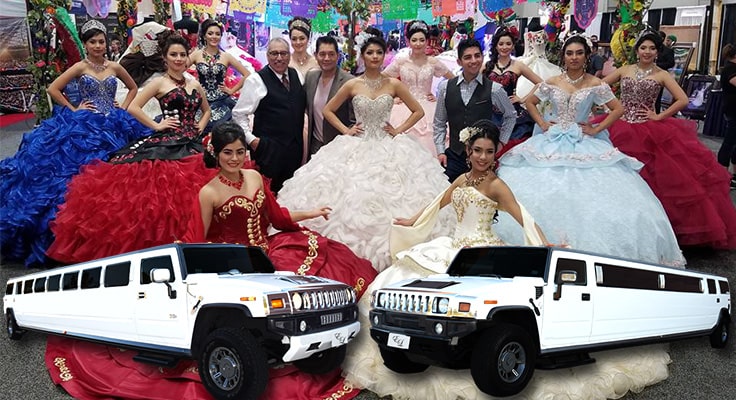 Let's face it, folks. You only turn 15 once, and if there is anything you can do to make it special, it is about time. All other birthdays have been the usual routine, and you are probably getting bored with the dull parties. With a Quinceanera limo party bus, we will guarantee you heaps of fun but also a way to reignite the enthusiasm of celebrating birthdays.
The millennial age group and those coming after have coined a phrase, "You Only Live Once" abbreviated to 'YOLO' and nothing could be closer to the truth. Life is passing fast, and there is never a rewind. When you get a chance to spoil yourself with the most beautiful toys and wild fun, you should go for it. A birthday party in a limo is high in the charts as the best way to mark your big day.
You are not the only person who is having wild imaginations of how you can turn your Quinceanera into crazy fun. Most people in LA are throwing this kind of surprises to their teens. Do not be left by the Bandwagon because we promise to make yours better than the last one to go down in LA.
Are you worried that you will have to break the bank to have your Quinceanera party on Limo wheels? Stop that train of thought because you will be amazed at how affordable we make it be. We are going to work with your budget and find the best package for your needs.
Our Unmatched Quinceanera Package.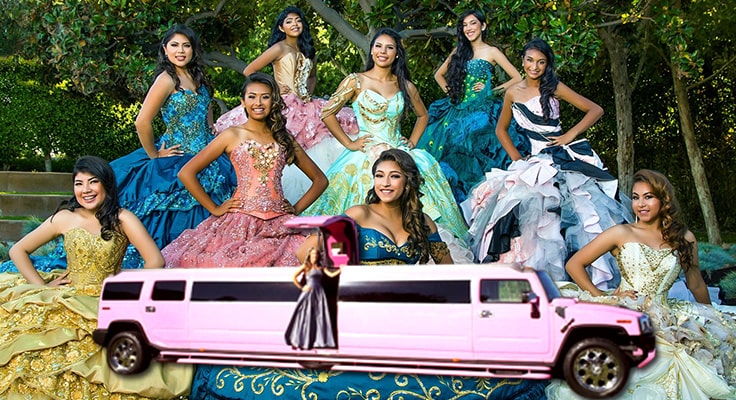 Having been in the luxury limo business for years, we have come of age, and you can expect only exceptional services from our company. To tease you with what you will get if order our service, here is the tip of the iceberg:
We will sign a contract of commitment to make sure we live up to all our promises
A red carpet reception
A soft bar inside the limo
Apple cider bottle with our compliments
Limo decoration in sync with your party theme
Stops and mileage when and where you need
We make this day about you. You are the queen and whatever you desire is all you have and no questions asked.
Quinceanera places (banquet halls) to celebrate in Los Angeles.
When it comes to partying and venues for essential events, Los Angeles never disappoints. For your Quinceanera, your loved one needs to spoil you for choice. If you are yet to pick a venue, we can give you a hand by suggesting a few spots near Los Angeles
Lot 613:
this is a casual location, but you cannot ignore its elegance. There are a dance floor and a sitting space for a relatively large crowd. Its simplicity means you can customize it to fit your dream venue.
Park Plaza:
If you want an indoor party and a place that has all you need for a great party, Park Plaza is your best bet. The architecture and space will all play to your advantage.
The Vila Sophia:
how about living like a princess for one day? The Villa Sophia is a castle-like spot with a residential theme. You can bring your 70 or so guests here and have the party of the year. The neighborhood is beautiful, and you get massive space to yourself.
 Places to take Quinceanera pictures while on a limo tour.
It is your birthday, and you are about to turn a new page of your life. You would like your Quinceanera memories to remain with you for many years to come. We recommend a photoshoot during your limo tour. But where in LA can you get the most scenic spots for the best photos? We have that figured out and here are a few suggestions:
Echo Park:
at the backdrop of a magnificent water fountain, here you can take award-winning photos. The city view from Echo Park here is heavenly. The sunrise or sunset are the best times to visit this place.
The Ace Gallery:
In LA's mid-city, this gallery is a hidden treasure for photo sessions. There is no entry fee, and that goes a long way to save on your budget. In here it feels like a haven and gets you in the mood for the evening party.
Fashion District:
do you need some color and boldness in your Quinceanera photos? Let us take you downtown to the LA Fashion District. You can choose to get closer to the wall for masterpiece portraits or get long-range shots from the other side of the street.
Pick your party tour, and we will be with you every leg of the journey. It is your day to be a princess, and we are doing everything to live up to your expectations.
 Quinceanera planning (including ordering limo).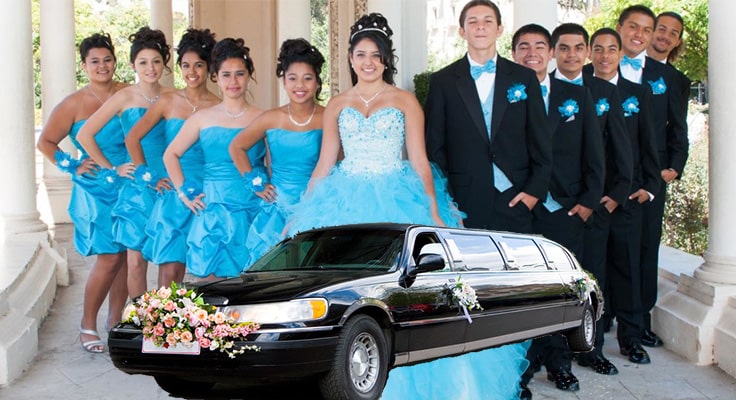 How is your Quinceanera planning coming along; pretty good or is there something you are missing? We know you already have a location for the party, the cake is already taken care of, small details tucked in place, and all you have to wait is for the day to come.
We have convinced you that you deserve to roll in for your party in one of our limos. The question is how do you get it planned and leave no room for disappointments.
Book us in good time.
You already know that your big day is fast approaching. Do not wait until the last two days to start making arrangements for your VIP-style transport. Come to us early and let us have the conversation. It gives us ample time to get everything ready and make it a memorable day.
Choose the perfect limo for your preferences and needs.
Our fleet of limos is setting tongues wagging all over LA. We have the high-end models to suit all the choices. Walk to our yard and make your pick. Whatever your dream limo ride is, it is what we are going to give you.
Let us now the route and party location.
Where do you want us to take you and is there a route you prefer? We would like to know because we do not want to fall short of your expectations. If you are still to decide we can help with a few suggestions. We are not the jack of trades, but when it comes to routes and the best venues for a befitting party, we have the insider's information.
Make arrangements for your guests.
Any Quinceanera has attached importance, and that is why your relatives and friends will be traveling from far to be part of it. After making all the sacrifices to be part of your celebrations, the last thing you want is letting down your guests
Our limos can pick them up and bring them to the party venue. Just say the word, and we will have plans for them. When the party is over, everyone will appreciate that you treated them as a VIP surprise.
Let us make your Quinceanera the dream party of all times
It is not by coincidence we are the go-to limo service Los Angeles and that we are a household name. We have earned the king's seat at the table of executing parties and events in style. Our services have been praised by millions and each day we strive to keep the bar high. That is why your Quinceanera would not be complete with our limo services.
We are going to drive you around town just like you are LA's newest celebrity. Wherever you want to go, we are there to take you and back. On the way, we will keep you and your friends entertained. The party does not wait until you get on location. We get things on high gear the moment you step into our luxury limo.
Don't be hearing our stories of greatness from your pals. You can taste our services, and we promise that you have never known anything better.
Contact us now to book your reservation to celebrate your 15th Birthday. It is a date, and you will live to remember this day. That is a guarantee you can take to the bank.
Do you have other events coming up? We also help with
Bachelor Limo or Bachelorette Party Limo
Concert Limo or Corporate Limo
If you need a ride to or from any local airports, check out our airport limo service.