Bachelorette Party Limo Services in Los Angeles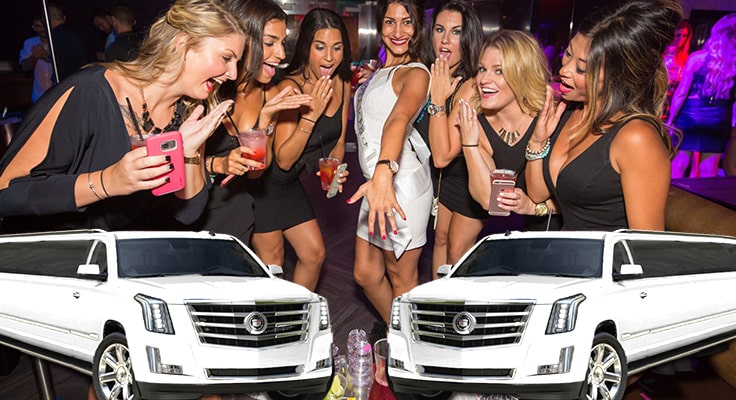 Is one of your girlfriends ready to walk down the aisle and leave the single club? In addition, it is time to show her how much of a good friend she has been to the pack. There is no better way to do just that other than throwing her a colorful bachelorette party. We are not talking about the typical kind of bachelorette parties. We have in mind a limo ride or a party bus.
As that sinks, we are here to tell you that we are one of the best limo service providers in Los Angeles and the nearby cities. Also, we will take it as our duty to see you step out into the party in style. Getting home safe will be our responsibility. Yours will be partying and having fun like there is never a tomorrow.
Do you need a party bus in Los Angeles? Check out our Party Bus Ideas in LA.
The Chicest Spots to have a Blazing Bachelorette Party in LA.
Usually, there is a lot to choose from LA for your bachelorette party. So many spots in Los Angeles where the party can go down and leave you with a taste of satisfaction on your lips. To point out, most LA girls like their bachelorette parties in Las Vegas, Saint Barbara or go to spas at Hot Springs and Palm Spring.
Where do you want yours to be?
Here are a few suggestions;
Westdrift:
This is a hotel in Manhattan Beach boasting of the best setting for any party. The cool breeze and the beauty around you will keep the fire burning and the party going wild.
Nobu Ryokan:
At the shorefront of Malibu, this Japanese themed bungalow is a terrific location for a party. So, right at the front of the frontend of the ocean, you can feel the happy atmosphere, and you are right at home for the bachelorette night.
King Sing Theatre:
This is a story in the heart of LA. If you are not a fan of taking action from LA's city core center, this is the place for you.
Bachelorette Party Ideas.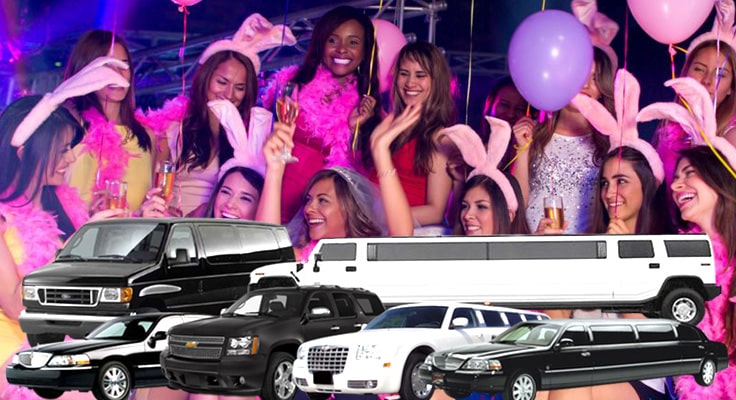 It is a big day and one that deserves you to be happy to the fullest. Do you have everything figured out for the entire day, no? Please don't beat yourself for it; we have some thoughts you can put into action.
Sample these ideas and see if any of them would make it to your final arrangements;
Brewery Tour:
This has nothing to do with your love for the bottle. What you are looking for is an out-of-the-box way to celebrate your girlfriend's bachelorette party. A brewery tour is an exciting proposition. Monkish Brewing, Smog City, will give you a tour of their facilities.
Poolside Party:
While Las Vegas would be a dream location for the party, you can as well go with a poolside party here in LA. The list of choices is inexhaustible, and you have to pick and choose what works for your preferences.
Make it a Spa day:
Bring your girls together for a crazy relaxation in one of those Korean spas. LA is exploding with options.
Make it a wine Party:
Go for a wine tasting bash at Malibu Wines. It is not all about the wine; there is also a safari within the vineyard that would add on to your entertainment.
Top Tips for a Bachelorette Party Limo.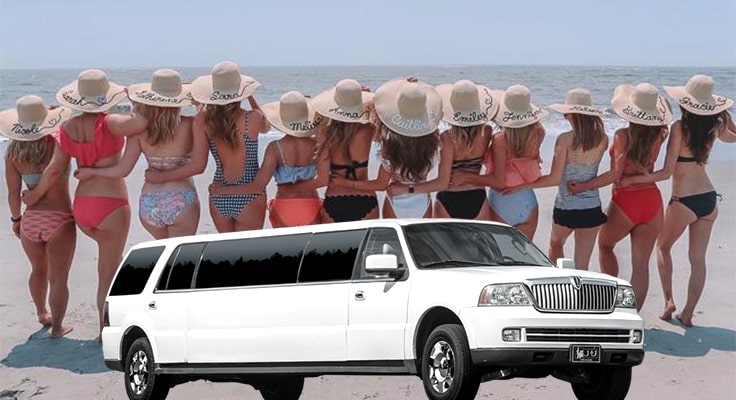 For many girls, riding a limo is just a dream. That is why when an excuse comes by you have to go for it. It is possible you have never ridden or rented a limo save for your prom, which is some years ago. It is not a crime that you might not know what to do. Here are top tips to make sure nothing comes in between your bachelorette party Los Angeles;
Here, if you would like to help  your future husband to organize her bachelor party, there is our bachelor party limo service
Book us early:
There is a reason why the early bird always gets the worms. Once you confirm the date of the event, do not wait any more minute. Call us and make your booking. One advantage of the early booking is that you will not deal with last-minute pressure. Trust us; it can be quite a hassle to get a limo during the peak season. You may have to make your booking as early as two months. Nevertheless, we can act on short notices and still give you a deserving party.
Define your route and let us know:
Where will be your bachelorette party bus headed? We would like to know so that we can plan and throw in some great surprises during the tour. You should also know how long you will be on the road. This information makes sure you get a chance to utilize your time to the last drop. Also, be sure to pick a route that will present you exciting opportunities to take photos for future reference.
The cheapest option
The cheapest option may be appealing, but it is not always the best: well, we work with all budgets and will get you what you want at the comfort of your pocket. While our limo service Los Angeles is very affordable, we would like to caution you against going for the cheapest deals. It may mean getting an old limo, less sitting capacity and missing out on some of the latest entertainment features. Go for what works for your needs but make sure you do not go for the rock-bottom cheap option.
Be inquisitive:
Before you agree to pay for a bachelorette party limo, ask about what you are getting back. The devil always exists in the tiny details. Know what is covered in the deal to ensure that you get the value of your every dime. Also,  please ask where you do not understand. It helps to know that there are no hidden costs and that you are paying for is what you are getting.
It is your limo
Stock it to your preference: while there is an offer of decorating and stocking up the limo for you, it is always good if you can take matters into your own hands. Buy your bottles of champagne and anything else you will need. Have someone do the décor but supervise the process. It is your day, and it has to represent you the best way possible.
Don't be too hard on yourself, have fun: you are supposed to have fun every step of the process. Beyond, allow yourself the pleasure to enjoy. It is not a waste of money treating yourself to one of the most extravagant bachelorette limo parties. Even if it is for a few hours, it is worth everything.
The Best and ridiculously affordable Bachelorette Limo Party LA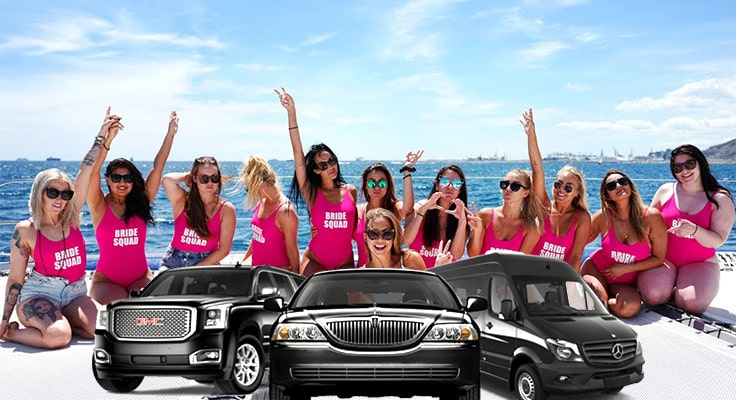 We promise to give you a day/night to remember. By the way, we make it a hassle-free period and tailor everything to fall in place just like you had in your wildest imaginations. We will spoil you with unique packages with our luxury limos and romantic party spots. To get into the mood of partying and a glimpse of what we deliver, have this;
We help you plan.
Whether this is your first or 100th bachelorette party you are planning, it is never easy. Expectations and circumstances keep changing, and you may find yourself stuck. Don't suffer in silence. Our knowledgeable staff knows the in-and-out of planning a wild party. They can help you pick a location, attire, and where to dine and wine like royalty.
VVIP Limo Fleet.
Our collection of limos and buses is at the shelf-top quality. They are state of the art models, rich in entertainment, and showroom-condition. Whatever you want, however remote it may be; we have it in our yard waiting for your selection.
Affordable prices.
Our packages are competitively priced. We can match your budget however shoe-string it may be. If you think our competitors are offering much better deals, try us, and we will surprise you with our generosity. That's not the end of the road we also provide you discounts as well.
Professional Chauffeurs.
In business attire and licensed to the bone, our drivers are a crop from the best seeds. They come ready to make you enjoy every inch of the ride. They are here to make you keep time, and safely take everyone where they should be.
The Extras.
In addition, we do exclude ourselves out of making this a day that will go down in memory lane as your best. Therefore, from us, you get ice cubes, bottled water, champagne glasses, and flutes. It is all free and with compliments from us. You can bring on your alcohol as long as everyone onboard has attained the 21-legal drinking age.
Your Dream Bachelorette Limo Party is only a mouse-click or a call away.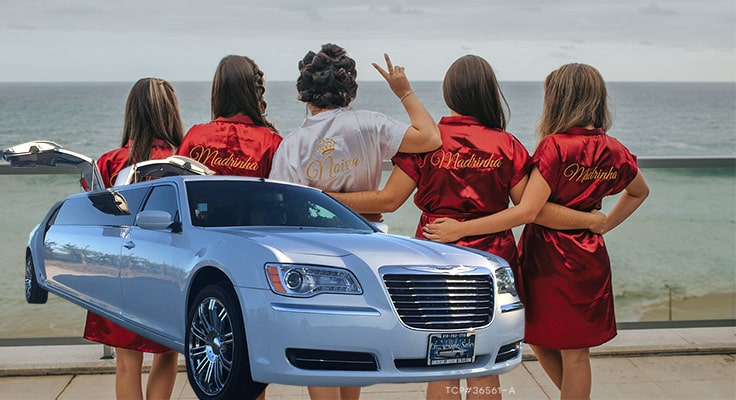 In Los Angeles, there is only one way of having a fantastic bachelorette party. Therefore, one way is inside one of our prestigious limos or party buses (yes, our party bus Los Angeles are reserved for large parties). We promise to make you a one-day celeb and set the city ablaze with your colorful party. Don't wait or miss out the fun when all you have to do is fill a form or give us a call with your details. Also, whatever wildest imaginations you have for your day, we will bring down the heaven down if we have to. You are rolling with the best so better be ready to be at your A-game.
Wait, have you ordered your wedding limo yet?
Check out our other premium services