How to Make a Party Bus Fun
Most people dream of booking a luxurious coach for a fun party ride at least once in their lifetime. Or do you have a special occasion or birthday party coming, but lack the know-how of making it memorable? Party bus rentals Los Angeles is the deal-breaker waiting for that dial to give you and your family or friends a party like none other
After all, Los Angeles is the home of all fantastic wineries, breathtaking restaurants, night clubs, and astounding party busses.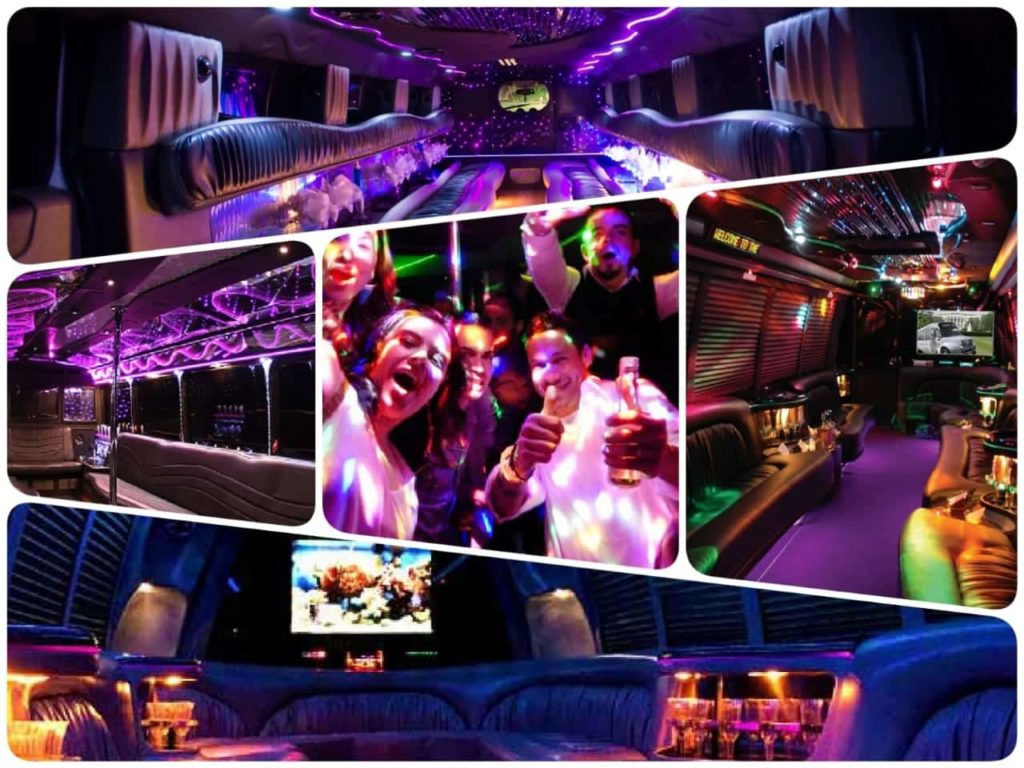 But before reaching out for the best party bus Los Angeles, there are few questions to put into consideration for a fun-filled night out on the wheels. These include:
How do you make a party bus fun? 
What theme and refreshments do you include in your special occasion? 
How many guests are you hosting? 
Which destination are you planning to explore?
These are but the few factors that you need to figure out how to make a party bus fun.
But the good news is, you found this post or this post found you, whichever comes first. So, if you have zero experience in this type of outing, this post is ideal for you. Its main aim is to give you helpful tips on how you can have a breathtaking party that will leave everyone with an experience to remember. If you already have the experience, then it is the right time for you to take it to the next level. Read on and find out more:
1.      Decide on Your Destination
The primary step of having a fun party bus is having a plan on where you want your driver to take you. Since you will have a chauffeur, you and your group should agree on a common destination to avoid driving around and wasting your time. You can settle for a nearby destination, or even go outside the city.
While planning for your destination, remember to include some stopovers. Expect to have some alcohol as one of your refreshments if your list of guests involves adults. Therefore, drunken people will always want to use the bathrooms at least 30 minutes or so. Make sure your stopovers include local bathrooms, facilities, restaurants, or even bars where you can as well stop by and have some drinks. Some of these destinations could be:
Concert: probably, you had plans for a group concert but did not manage due to unavoidable circumstances. This party bus trip can be the best opportunity to have such an experience. However, before spending extra money on tickets, it is crucial to know the availability of your couch.
A Football Game: What else is more entertaining than watching a football game with your best crew? With a party bus, no one is worried about how they will reach their destination as someone else will be on the steering. The driver is there to take you to whichever destination you wish. 
The Bowling Alley: Bowling is another good idea for a party bus trip. Book a party bus LA and make use of the coach from bowling, to partying back home. 
A Brewery or Vineyard: A brewery or winery is one of the most exciting destinations everyone should visit at some point in their lives. With a qualified bus driver to take you back home, worry should be their last, though. You will have the chance to taste a beer or two, or some excellent wines and off course dance to some good music on your party bus.
The Museum, Zoo, or Aquarium: You can save some money, time, and effort compared to hosting the usual kids' parties at home with this incredible idea. The kids will still celebrate their birthday parties together with their closest friends. Plus, the parents will drive on the same bus avoiding extra costs on separate driving.
2.      Your Party Bus Theme
Your party bus destination determines the theme of your party. If your final stop is a bowling alley, then you should decorate your bus with items that are on the same lane as bowling. The same applies to football or any other activity in your must-to-do list.
Evening gowns and ties should be the attire for a Hollywood party bus experience. If you want your friends to get all fancied up, have a red carpet in your coach and spread out boxes of popcorns for everyone to enjoy. Other ideas for the party bus theme can be a mermaid, karaoke, toga, and a back-to-college theme. Remember to include streamers, banners, and balloons for decoration.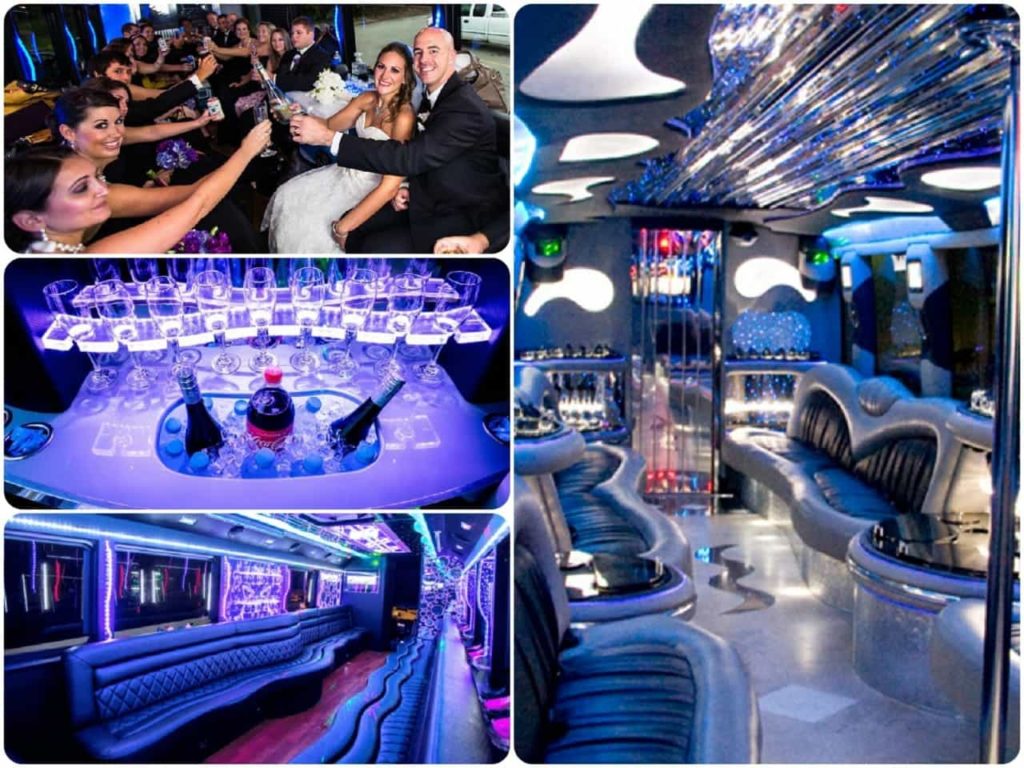 3.      Work on Party Details
Communicate your pick up locations and stops to your entourage and the party bus company. Informing the company on your route before the party day will help avoid inconveniences on timing and drop-offs.
 Remember to factor in the total number of guests and how long you will need the coach – not forgetting the total cost of the event. 
4.      Entertainment
There is a wide selection when it comes to the entertainment and activities to do on a party bus. These include:
Games
 Avoid games that are too straight forward or stationary. Bring along some creative games such as 
Apples to apples. This game is suitable for adults only. It involves cards against humanity.
Car games: it is an adult-only, exciting game of telephone and a series of questions.
Drinking games: again for adults only. These games can be the truth and dare shots.
Story Telling
Have some books and let everyone read a specific passage. Then have each, and everyone guesses the book each passage is from. This is a suitable game for the kids. 
Singing Time
Most people are lovers of karaoke. Have different teams to practice on different songs, and then compete against the teams for the best singers. Mostly it comes in handy when people are tipsy or high after a couple of beers.
Coloring
Why not try out some coloring? Both kids and adults fancy coloring. They find it very calming and entertaining.
Telephone
Do you remember the telephone game? It is one of the best ideas to make a party bus fun. You can start at the front of the couch, and see how it ends.
5.      Refreshments
When considering a party bus rental in Los Angeles, remember to enquire if the cost is inclusive of refreshments. If not, you can always carry some with you. So what do you consider as refreshments for a bus party?
The menu should be more of a cocktail than a dinner party. Make sure that your snacks are light, not too messy, and easy. Make a budget of two for each guest. Bring at least five different types of non-mealtime finger foods and eight for mealtime.
Have enough drinks for everyone to take at least two in the first hour, and the rest drinks one after every hour.
Consider foods such as chips, caramel popcorn, and baguette slice with brie. For drinks, a mixture of classic rum and coke can be an idea.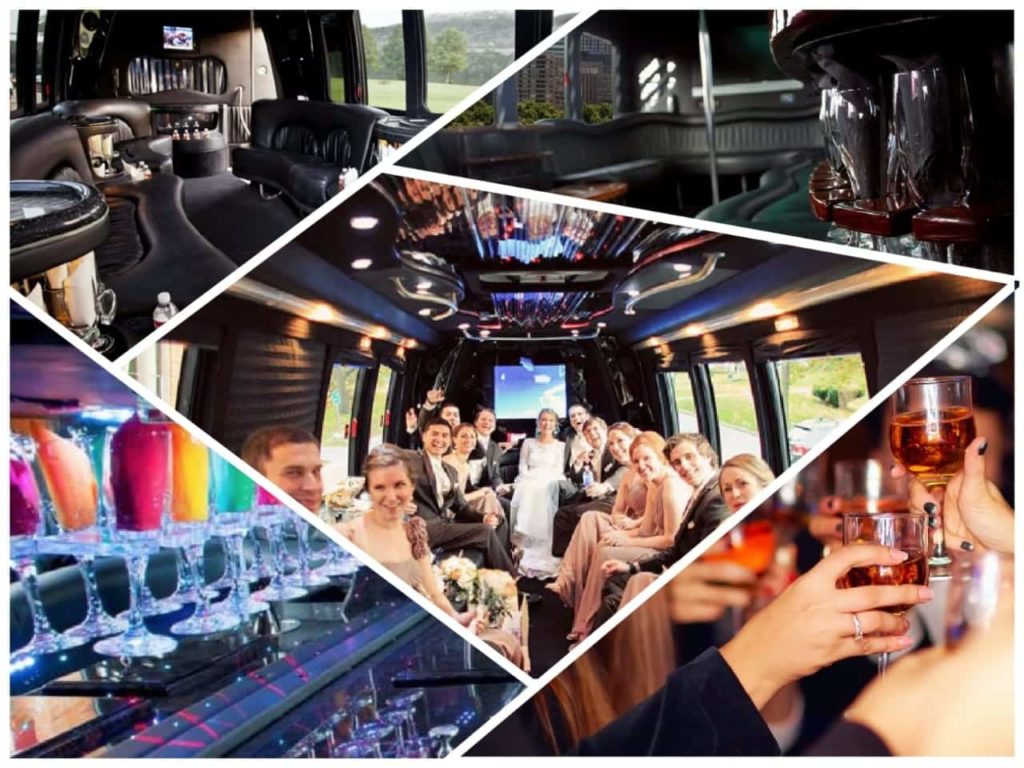 6.      Booking Your Party Bus
Most party bus LA can accommodate ten guests or 30 people on the maximum. Always have more space than your guests' list. For instance, if your list has 20 guests, book a party bus that can accommodate up to 30 people. There are several reasons for always having more space: 
Some of the party bus rentals Los Angeles have few mid-sized busses
Or, if by any chance you make a friend during one of the stopovers, you can add him/her to your entourage without causing a seat problem.
On the same note, book your party bus a few days to the party, or the worst case, an hour before. Early booking gives the limo company ample time to make proper arrangements, including pick-up locations and drop-offs, without making anyone feel rushed.
Besides, some party bus rentals in Los Angeles include additional offers on their fee packages. These can be red carpets, balloons, and even flowers. These extras can help you minimize the overall cost of the event.
7.      Essentials to Bring on a Party Bus
Besides the foods, drinks, and decorations, there are other vital items that you need to tag along. Here is a checklist of some of the most critical items, but easy to forget. These include:
A tape – to enable you to stick up your decorations
You will need scissors for packets opening
A paper and pen – these items come in handy when playing
Bottled water
Extra cash
Costumes
Extra ice in a plastic tub
A phone charger or a USB cable
Paper towels and stain removers in case of any spillages on clothes
Hand sanitizer
Trash bags
First aid kit
Some tablets for motion sickness
Plastic wrap
Cooler
Plastic food containers
You may not require every item in the list, but no one wants several stops to get some essentials that are easy to carry. Everyone would love to enjoy every second of the party bus trip.
Conclusion
Although the cost of hiring a party bus Los Angeles can be high, consider the quality of the couch as a crucial factor. Make an early booking, and remember to get a receipt as proof of payment for the bus you intend to board. 
Remember to check the bus's license, insurance certificate, and company guidelines to avoid being on the opposite side of the legal laws.